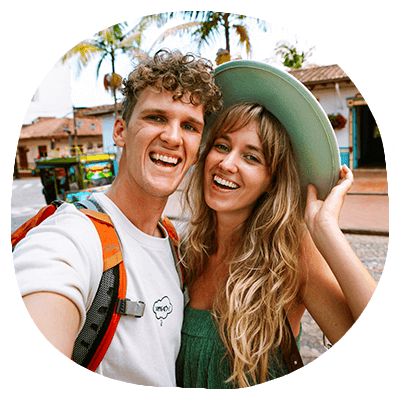 Hi, we're Nick & Hannah!
We hope you're enjoying our free travel guides & tips! If so, please consider supporting our work. 🤗
Day 1 – Langkawi from above
'Lang kawi' means 'eagle red', as the island of Langkawi is famous for the many red-brown eagles living here. It's hard not to spot them during your time on the island. What better way to start your time on Langkawi, than by seeing it from a birds-eye view.
1. Langkawi Sky Bridge
The Langkawi Sky Bridge is a truly astonishing experience. Experience the world's steepest cable car, taking you up to 660 meters above sea level, where the bridge is located.
The internationally famed Langkawi Sky Bridge attracts travelers from all over the world. It is highly recommended to visit the bridge when it opens at 9 AM.

Note: Strong wind speeds sometimes force the sky bridge to close down for a few hours.
Price Langkawi Sky Bridge
2. Seven Wells Waterfall (Telaga Tujuh)
3. Relax at Pantai Cenang
4. Night market (different part of the island every day)
When the night has fallen, the night markets open their doors. Langkawi has a different market every evening, at a different location, of a different specialty. It's a great way to try some traditional Malaysian foods and get the vibe of the locals, as they cook and sell. The markets use a lot of plastic, so bring your own reusable bags and containers to help reduce single-use plastic (click for more tips). These are the market locations per evening:
Day 2 – Discover Langkawi by motorbike
5. Tanjung Rhu beach
6. Cruising Langkawi
From north to south, east to west, you will find a variety of beaches and landscapes on Langkawi. Cruise with your motorbike around the island, along the rice paddies and white-sand beaches.
Langkawi is a safe island to drive around on your own and all main roads are very well maintained for traffic.
7. Langkawi Mangrove tour
Day 3 – Adventure & Chill
8. Zipline
9. Sunset boat tour
One of the most popular things to do in Langkawi is to take one of the many boat tours that are on offer around the island. A range of cruises is available, such as island-hop on and off cruises, luxury sunset cruises, and mangrove tours.
Be aware that the corals are protected at the moment in Langkawi due to excessive coral bleaching, so make sure to only swim where instructed and never touch the corals.
Opt for a private tour if you want to be flexible in your itinerary and avoid the crowds of travelers that may also be visiting these places on the standard island hopping tours.
One of the top sunset tours in Langkawi is with Captain Eva on the Damai Indah. See the legendary Langkawi sunset whilst afloat on the ocean, take a dip at dusk, and eat incredible food at sea.
Things not to do on Langkawi
There are, sadly, a few popular activities on Langkawi that aren't ethical. The first is to visit a crocodile farm. It may seem a credible place for the animals to live, but the crocodiles are used in stunt shows for the entertainment of travelers.
Getting to & around Langkawi
Although Langkawi is an island at the northernmost point of Malaysia, there are good transport connections. There is an airport with regular flights from Kuala Lumpur and other destinations in Malaysia.
Getting around
Once on the island of Langkawi, you can easily make your way around the island via Grab (taxi app) or public taxi. If you'd rather have more flexibility in your journeys, there are plenty of places to hire a motorbike around the island.
With a car, you can cover the most distance and stay fresh. If you're planning to rent a car in Malaysia we recommend Sunny Cars as they work with local car rental companies. When booking through Sunny Cars, the price already includes all insurances. Book your rental car here.
Langkawi to Koh Lipe, Thailand
Restaurants in Langkawi
There is a wide selection of restaurants spread over the island. A mix of Malay and middle eastern cuisine are most common. These were our favorites:
Night markets
Where to stay in Langkawi
Cenang Beach Langkawi Hotels
North (Less crowded but fewer restaurants)
Best time to visit Langkawi
Weather-wise, the best time to visit Langkawi is between January and March when it is the dry season. However, this will also be the peak tourist season.
November to December and April to August can have a few drops of rain but there will be fewer tourists.
Salt in our Hair
15/12/2022
https://www.saltinourhair.com/malaysia/langkawi/
Last updated:

December 15, 2022