Day 1 – Langkawi from above
'Lang kawi' means 'eagle red', as the island of Langkawi is famous for the many red-brown eagles living here. It's hard not to spot them during your time on the island. What better way to start your time in Langkawi than by seeing it from a birds-eye view?

1. Langkawi Sky Bridge
The Langkawi Sky Bridge is a truly astonishing experience. Experience the world's steepest cable car, taking you up to 660 meters above sea level, where the bridge is located.

Walk across the beautifully constructed bridge, suspended between two peaks, and see panoramic views across the jungle and ocean. One of the special features is the shape of the bridge, providing a change of scenery from every viewpoint. If there is one thing you should do in Langkawi, it should be to visit this place!


The internationally famed Langkawi Sky Bridge attracts travelers from all over the world. It is highly recommended to visit the bridge when it opens at 9 AM.

Note: Strong wind speeds sometimes force the sky bridge to close down for a few hours.
Price Langkawi Sky Bridge
Glass bottomed gondola – RM105 (~25.5 USD)
Standard gondola – 85 MYR (~21 USD)


2. Seven Wells Waterfall (Telaga Tujuh)
Near to the top of the Sky Bridge is the Seven Wells Waterfall. The most impressive waterfall on the island gets its name from the seven pools the fall creates at different levels.
No time to read now?
No worries! Save on Pinterest to read it later.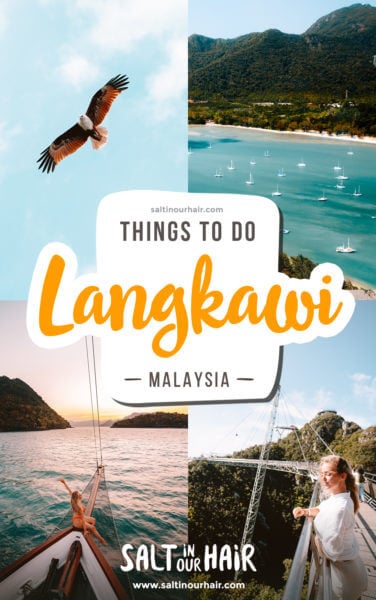 There are a few different routes you can take to reach the falls, depending on whether you prefer a shorter or longer hike, but if you can't make it to the falls, you can also see it from the cable car on your way up to the sky bridge.


3. Relax at Pantai Cenang
After a busy day, chill and see the sunset at one of the island's most beautiful beaches. Pantai Cenang is well located on the west side of the island, where most cafes/restaurants/music bars are located. The long stretch of white sand spans for 2km and is the most popular beach on the island, which makes for a lively, fun atmosphere.


4. Night market (different part of the island every day)
When the night has fallen, the night markets open their doors. Langkawi has a different market every evening, at a different location, of a different specialty. It's a great way to try some traditional Malaysian foods and get the vibe of the locals, as they cook and sell. The markets use a lot of plastic, so bring your own reusable bags and containers to help reduce single-use plastic (click for more tips). These are the market locations per evening:

Day 2 – Discover Langkawi by motorbike
Langkawi is a fairly big island that has lots to explore. Rent a motorbike to easily get to most parts of the island within 30/40 minutes.
5. Tanjung Rhu beach
After breakfast, make your way to the northern tip of Langkawi. Tanjung Rhu is a remote beach sandwiched between the lush jungle and the Andaman Sea. This area is much quieter than other parts of Langkawi and hosts only a few exclusive resorts. A little piece of heaven!


6. Cruising Langkawi
From north to south, east to west, you will find a variety of beaches and landscapes on Langkawi. Cruise with your motorbike around the island, along the rice paddies and white-sand beaches.

Langkawi is a safe island to drive around on your own and all main roads are very well maintained for traffic.

7. Langkawi Mangrove tour
Langkawi's northeast coastline is covered with dense mangrove forest and is incredibly important for the island's ecosystem. The Mangrove is a UNESCO Global Geopark, in other words: a protected area that can only be visited by taking a boat tour. A mangrove tour is a great way to learn about plants and wildlife and how they all work together in the ecosystem.


Highly experienced guides will take you by boat through the mangroves and explain why these areas are so crucial for the island, before finishing at the stunningly peaceful crystal pool.
See the tour availability below:
Two things we learned that day:
Mangrove forests act as a barrier for waves.
There are almost no mosquitoes on the island because of the bats that eat insects.

Day 3 – Adventure & Chill
8. Zipline
Get your adrenaline pumping by zipping across the 12 zip lines in the Langkawi jungle. The longest zipline of Langkawi is located at the foot of the Seven Wells Waterfall. It gives a spectacular view of both the waterfall and jungle.
9. Sunset boat tour
One of the most popular things to do in Langkawi is to take one of the many boat tours that are on offer around the island. A range of cruises is available, such as island-hop on and off cruises, luxury sunset cruises, and mangrove tours.

A hop-on and off cruise allows you to see some of the biodiverse waters and islands surrounding Langkawi, freshwater lakes, and islands famed for their corals and rich marine life.

Be aware that the corals are protected at the moment in Langkawi due to excessive coral bleaching, so make sure to only swim where instructed and never touch the corals.
Opt for a private tour if you want to be flexible in your itinerary and avoid the crowds of travelers that may also be visiting these places on the standard island hopping tours.

One of the top sunset tours in Langkawi is with Captain Eva on the Damai Indah. See the legendary Langkawi sunset whilst afloat on the ocean, take a dip at dusk, and eat incredible food at sea.

Things not to do on Langkawi
There are, sadly, a few popular activities on Langkawi that aren't ethical. The first is to visit a crocodile farm. It may seem a credible place for the animals to live, but the crocodiles are used in stunt shows for the entertainment of travelers.

The second activity is to feed the eagles (normally a part of the island hopping tour). Travelers are encouraged to feed the eagles chicken skin, which is not a part of their natural diet, resulting in an imbalance of the food chain that causes damage to the ecosystem. Never support activities that use animals in this way and trust your instincts as to which activities may be inhumane.
Tip: Book onto a mangrove tour instead, where you can see beautiful birds and other wildlife in their natural environment, without causing them damage through feeding.

Getting to & around Langkawi
Although Langkawi is an island at the northernmost point of Malaysia, there are good transport connections. There is an airport with regular flights from Kuala Lumpur and other destinations in Malaysia.
A popular method of travel is to first visit Penang before taking the ferry across to Langkawi. The journey is about 2-3 hours but it is worth checking the weather, as during the monsoon season the crossing can be rough.

Getting around
Once on the island of Langkawi, you can easily make your way around the island via Grab (taxi app) or public taxi. If you'd rather have more flexibility in your journeys, there are plenty of places to hire a motorbike around the island.
With a car, you can cover the most distance and have greater freedom and flexibility on your trip.

Langkawi to Koh Lipe, Thailand
A popular next destination after Langkawi is the paradise island, Koh Lipe, in Thailand. A two-hour ferry ride gets you to the southernmost island of Thailand.
Restaurants in Langkawi
There is a wide selection of restaurants spread over the island. A mix of Malay and Middle Eastern cuisine are most common. These were our favorites:
Yasmin Syrian Restaurant
The Loaf Bakery & Bistro
Arts Cafe Langkawi
The Kasbah
Haroo Korean Restaurant
Night markets

Where to stay in Langkawi
Langkawi is a large island and offers many options for accommodation. Stay close to Cenang Beach so you're close to all the restaurants, or at the north coast to have a more secluded experience away from the crowd.
Best time to visit Langkawi
Weather-wise, the best time to visit Langkawi is between January and March, when it is the dry season. However, this will also be the peak tourist season.
November to December and April to August can have a few drops of rain, but there will be fewer tourists.
Did you know that …
When you purchase something through our links we earn a small fee. However, you still pay the same. Win-win!
Salt in our Hair
18/10/2023
https://www.saltinourhair.com/malaysia/langkawi/
Last updated:

October 18, 2023