What to expect in Petra, Jordan
Exploring the valley is straight forward; one clear walking route is leading from the Siq all the way to The Monastery. Many detailed, beautifully preserved structures carved out of rose-colored stone can be seen and some visited inside. The following spots are the highlights of Petra. You don't need a guide to explore Petra.
Siq; Entrance to Petra, Jordan
Siq is the main entrance, a rose-red 1.2-kilometer long gorge leading to the city of Petra. The walls are a stunning 80-meter high at some point!
No time to read now?
No worries! Save on Pinterest to read it later.

The Treasury in Petra, Jordan
At the end of the 30-minute walk through the Siq gorge, an unreal 40-meter high structure appears from behind the rocks. The Treasury is the most beautiful and well-known sight in Petra. For a more unique perspective, hike up to the viewpoint. So-called "Jack Sparrow's"' the look-a-likes, will offer you a guided walk to the viewpoint but that's the illegal route. The Treasury is just a small part of what Petra has to offer.
Good to know: Some structures are accessible, but none are allowed to climb.
Monastery
One of the largest and most beautiful structures discovered in Petra is the Monastery. The trail from The Treasury towards the Monastery takes 1.5-hour and includes 40 minutes of solid hiking up the stairs. It's a walk with a couple of beautiful panoramic viewpoints over the desert.
On the way, loads of donkeys will pass you carrying tourists. The walking trail is fine; there are loads of spots the hide in the shade and buy drinks so walk by yourself instead of using an animal.
Tip: The best time to visit the Monastery is in the early morning before the heat of the day.
Once at the Monastery take the time to wander around, have a look inside and get some refreshments at the cafe. Is the hike worth it? Yes! The Monastery is beautifully detailed and has more space so feels less crowded.
How many days in Petra, Jordan
Two days is the perfect amount of time to spend in Petra. There is a lot to see and quite a distance to cover but when spread over two days it would be short walks and hikes. Visiting most sights of Petra in one day is possible when you start at 6 AM until 6 PM.
To the Monastery and back from the Siq entrance takes 3.5 hours of walking and hiking upstairs without stopping. So it's important to remember that you will be walking a lot in one day.
Good to know: Food & drinks available inside.
Egypt + Jordan
Subscribe to our YouTube channel and never miss a video!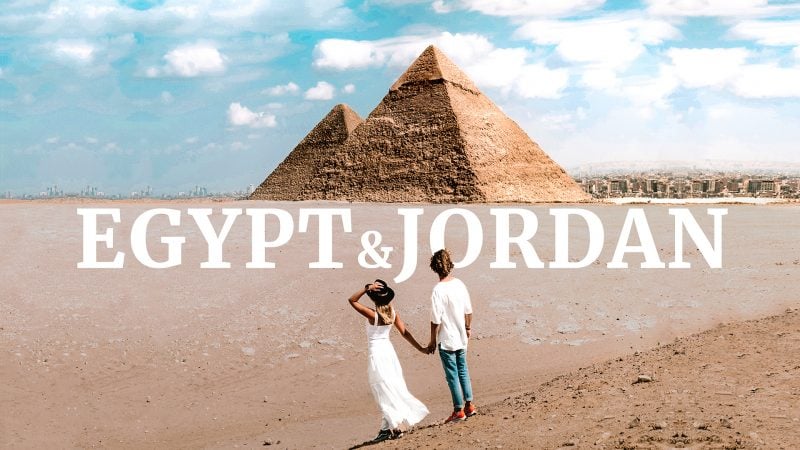 Best time to visit Petra
It's is best to visit Petra during the morning and late afternoon. The entrance opens every morning at 6 AM and there won't be any big tour groups before 8 AM. Petra closes at 6 PM in summer and 4 PM in the winter.
Entrance tickets Petra
The entrance to Petra is 50 JOD (~ 70 USD) for one day. Visiting two days has better value as that will only add 5 JOD. A two-day pass costs 55 JOD (~ 77 USD). Children under 12 enter for free.
Jordan Pass online
A better deal is to buy a Jordan Pass online. The Jordan Explorer includes your visa to Jordan (usually 40 JOD), a 2-day entrance to Petra, and 40 other big attractions in Jordan. The costs are 75 JOD (~ 105 USD).

Important: Take your passport, you have to show this with your ticket at the entrance.
Is Petra safe?
Yes! Like everywhere in Jordan, Petra is safe. No matter if your a solo female traveler or as a big group, you don't need to worry. Cover up appropriately but there's no need to cover your hair.
Make sure to wear good shoes in Petra. The path can be tricky at some point and flip-flops are definitely a no-go for hiking here.
Our tour was arranged by Travel Talk Tours, they take care of the hassle and after explaining some important history they let us roam free inside Petra.
Hotels in Petra
All hotels in Petra are in Wadi Musa, a perfect location at the entrance of Petra.
Salt in our Hair
18/10/2021
https://www.saltinourhair.com/jordan/petra-jordan/
Last updated:

17 March 2019