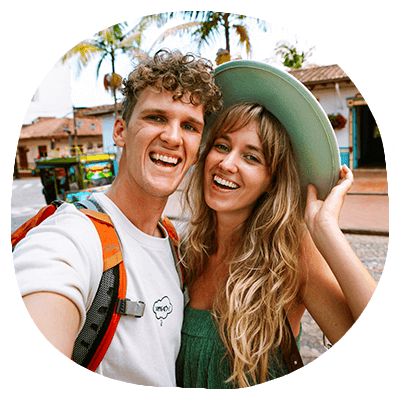 Hi, we're Nick & Hannah!
We hope you're enjoying our free travel guides & tips! If so, please consider supporting our work. 🤗
Day 1 – Tuscany
It's time to leave the buzzing city life behind for a 3-day road trip all the way down to Rome in three days. Leave from Florence, Pisa, or Cinque Terre, just what fits in your Italy route guide, and drive towards Siena.
Set Google Maps to 'Siena' but make sure to select the option 'avoid highways'. Otherwise, you will be in Siena within an hour via the highway. But you will miss all the beauty of Tuscany.
Try to be in Siena around noon so you will have the entire afternoon to explore this incredible town that you must see while visiting Italy. Visit the shell-shaped square: Piazza del Campo, get lost in the small quiet streets, and visit the cathedral 'Duomo di Siena'.
No time to read now?
No worries! Save on Pinterest to read it later.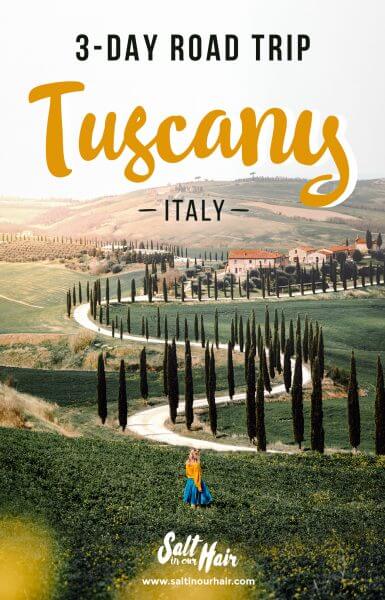 Most parts of the center are not accessible for cars which creates a great atmosphere in the city. Close off the day by having a delicious Italian dinner at Osteria Permalicoa.
This was our hotel located perfectly between the parking area and the city center. Park your car for free here and walk 10 minutes to be in the center of Siena.
Continue your ride passing the sloping Tuscany hills with vineyards, tiny picturesque villages and scenic landscapes the entire drive towards Saturnia. Along the way, stop at a winery like Siro Pacenti and have a tasting experience. Unfortunately, only for the person who isn't driving.
Siena to Saturnia is a 2-hour drive without stopping so don't rush your ride. In Saturnia, a natural hot spring is waiting for you to dip in. A free-to-visit bath, heated by a volcano with a constant temperature of 37 degrees. How good does that sound?! It's open 24 hours a day and doesn't have changing rooms so make sure to change at your hotel in Saturnia or Montemerano.
Before the night falls, discover the little streets and tucked away courtyards of Montemerano. This little town only hosts about 500 citizens and feels like time stood still. It offers a handful of great restaurants that night's dinner.
Day 3 – Finish the Tuscany Road Trip in Rome
Have a refreshing morning dip in the hot pools before hitting the road towards Rome, the final destination of the Tuscany road trip. Driving over the hills takes around 3 hours to reach Rome.
Tip: Rome offers accommodation for every kind of budget. The best areas to stay are around Vatican City or near Termini Station.
Best time to visit Tuscany
The best time to visit Tuscany is from May to October. March and April can be great as well, but it will be colder, and won't be any blooming of the vineyards yet. You will have the chance to drive around for hours without seeing any other tourists. Try to avoid peak season in July and August.
Did you know that …
When you purchase something through our links we earn a small fee. However, you still pay the same. Win-win!
Salt in our Hair
29/11/2022
https://www.saltinourhair.com/italy/tuscany/
Last updated:

November 29, 2022