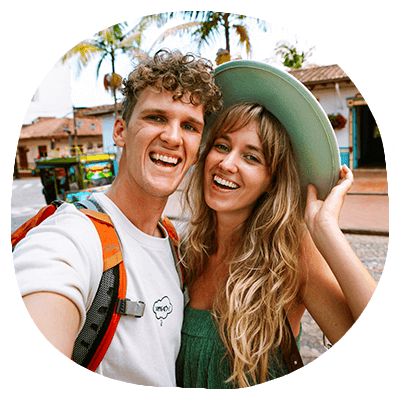 Hi, we're Nick & Hannah!
We hope you're enjoying our free travel guides & tips! If so, please consider supporting our work. 🤗
About Saturnia, Tuscany
Saturnia is a spa town in Tuscany, Italy. A commonly misunderstood fact is that the springs are part of a nearby located spa resort. The Saturnia hot springs in Tuscany are completely FREE to visit 24 hours a day, 7 days a week, 365 days a year.
Enjoy the peaceful baths during sunset or sunrise when the least visitors are in the baths. The relaxing sound of the powerful waterfall will muffle the talking that you would normally hear around you.
No time to read now?
No worries! Save on Pinterest to read it later.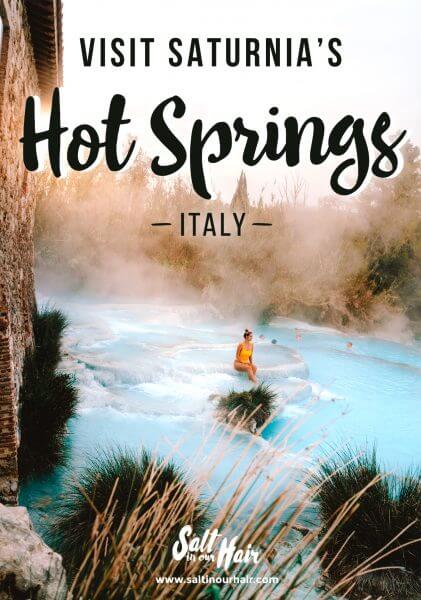 If you really want a private experience, visit the spring before 7 AM. Next to the hot spring is a parking area that's also open the entire day. UPDATE: The parking is moved to a nearby location indicated with signs (See the exact location).
Why Does the Hot Spring Smell?
Because of its natural heated process, the sulfur smell is a small drawback of the Tuscany thermal hot springs. Some days it's worse than others, but as the water is said to be healing, you will feel as new after a good bath here.
What to Bring to the Hot Springs in Tuscany
Your 2-week trip through Italy isn't complete without a proper swim in the Saturnia hot springs. Bring your towel and drinking water so you won't get dehydrated but change in your hotel or car. There are no changing facilities at these hot springs in Tuscany.
Tip: You might want to wear water shoes as small pebble-stones cover the spring's floor.
It is almost unreal that this exists and that everyone can enjoy it for free. Please take your garbage with you and leave the hot springs even cleaner than before.
Hotels Saturnia
There is a handful of good hotels and B&Bs in the area. Our B&B 8380 is a 5-minute walking distance from the thermal hot springs. The same goes for the Spa and Golf Resort. It's best to choose accommodation in either Saturnia or Montemerano.
Montemerano is one of the most beautiful little villages in Italy and a great place to have dinner. Read more about it in our Tuscany Road Trip Guide.
Did you know that …
When you purchase something through our links we earn a small fee. However, you still pay the same. Win-win!
Salt in our Hair
17/08/2023
https://www.saltinourhair.com/italy/saturnia-hot-springs-tuscany/
Last updated:

August 17, 2023