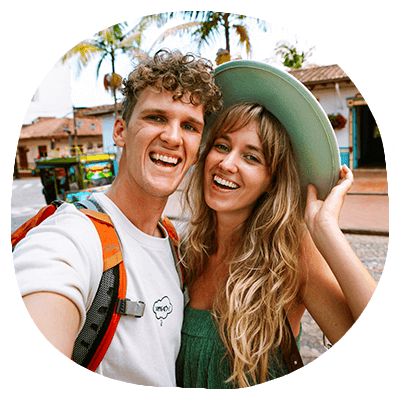 Hi, we're Nick & Hannah!
We hope you're enjoying our free travel guides & tips! If so, please consider supporting our work. 🤗
Start your day early to avoid the large tour group crowds. Palazzo Vecchio is the current town hall of Florence. The medieval-looking Palazzo and the Piazza Della Signoria square in front are the historic center of the city, a place for people to gather. On the inside, the hall and rooms are beautifully decorated and open to visitors. It is open daily from 9 AM to 7 PM.
2. Cathedral of Santa Maria del Fiore
Continue your walk towards Florence's most popular thing to do: visiting the Duomo of Florence (cathedral). The Cattedrale di Santa Maria del Fiore is an architectural masterpiece that took over 140 years to complete. Its exterior is colored in white, pink, and green marble, and during the day, it seems to change color depending on the position of the sun.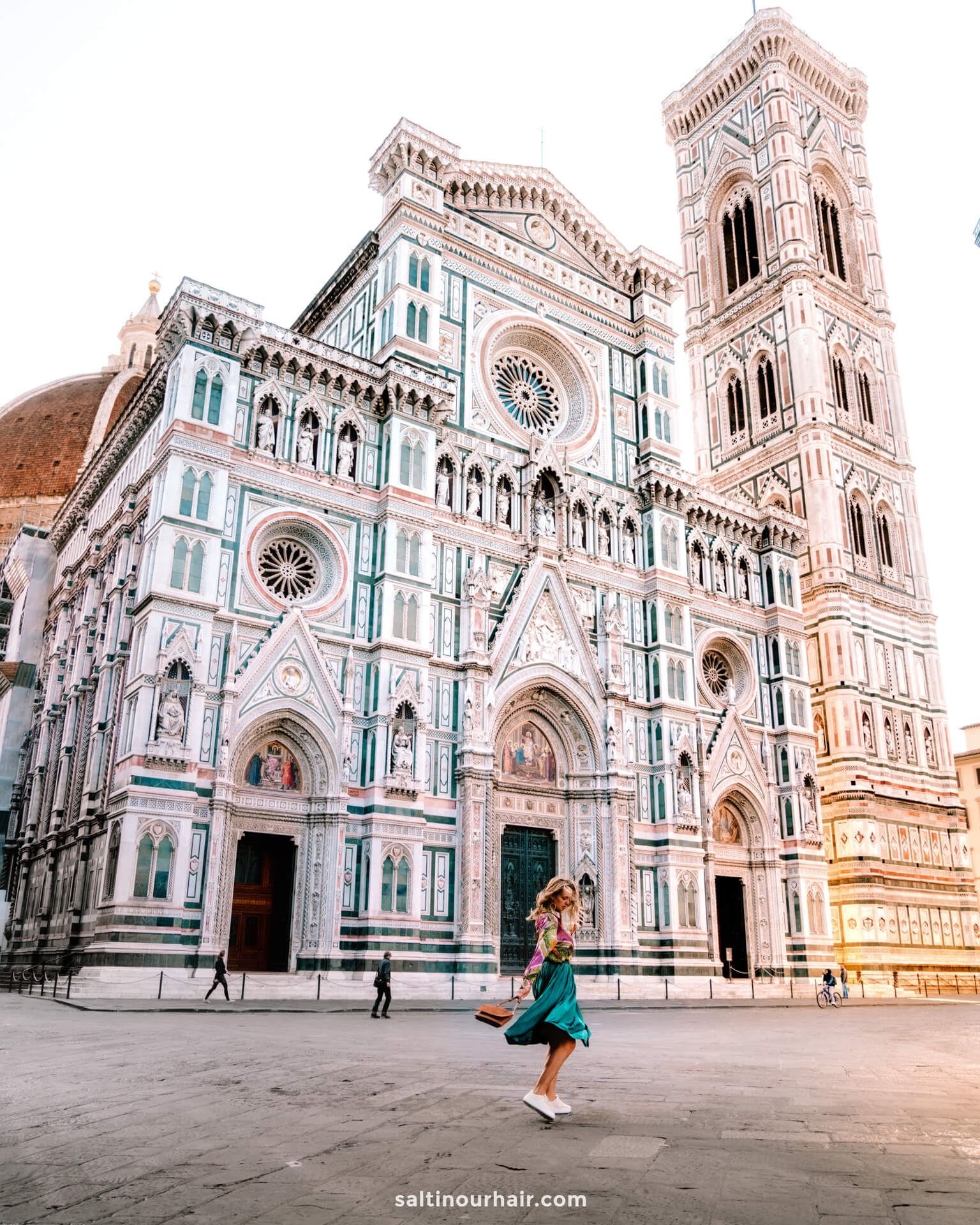 The cathedral is free to visit, and although it might look busy, the inside offers plenty of space, so the line is a short wait.
No time to read now?
No worries! Save on Pinterest to read it later.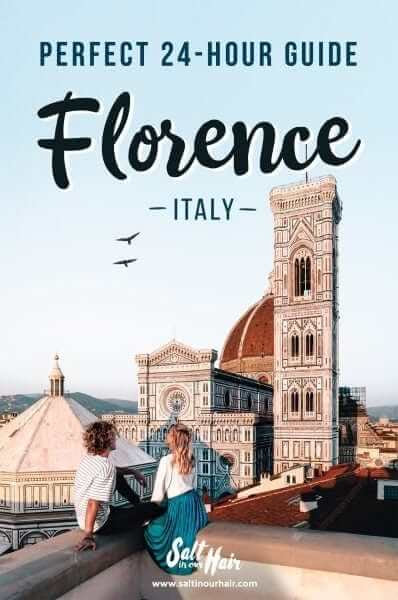 It is one of the largest cathedrals in the world and the world's largest dome! Visitors are allowed on the top of the dome to have an incredible city view, but it takes 460+ steps to climb to get there. Tickets to climb the Duomo sell out weeks in advance, so if you want to do it, definitely plan ahead and book.
3. All'Antico Vinaio – Must do in Florence!
After all that walking, you must be hungry. Well, get ready for an experience at All'Antico Vinaio. This panini shop has tasty and affordable paninis (sandwiches), and there is always a line through the entire street, yes, the entire street, haha! But wait, don't let that scare you off. They actually own three or four shops all next or opposite to each other that all sell the same, so although the line looks long, it goes really fast. This is one of those things to do in Florence you should see!
4. Ponte Vecchio
Make your way towards the Arno river, a short 5-min walk. Ponte Vecchio, built in 1345, was Florence's first bridge over the river. It is so unique because it is the only bridge that wasn't destroyed during the war. Nowadays, the bridge has shops selling gold and silver jewelry, so you won't directly have the feeling you are crossing a bridge.
5. Get the city's best Gelato
Cross the Ponte Vecchio, turn right, and wander through the beautiful streets on the other side of the river. This part is less visited and a nice getaway from the busy streets. Make your way to Ponte Alla Carraia, but before you cross the bridge, get a delicious Gelato at Gelateria La Carraia.
Tip: If you take your gelato in a cone, ask them to leave the plastic spoon out. You don't need a spoon if you can lick your ice cream, and you're helping the environment. Read more tips on how to reduce plastic while traveling.
6. Santa Croce
Piazza Santa Croce and the Santa Croce Basilica are a little more between the locals. Cafes and street performers are making the square an excellent place to sit down, relax, and absorb the charming Florence vibe for a bit.
7. Piazza del Duomo around Sunset
Around sunset, make sure to be back at the Duomo of Florence and experience the sunset on the lively square Piazza del Duomo, in the dome on top, or at one of the rooftop bars like La Terrazza or Robiglio. However, the absolute best spot is the rooftop of B&B La Terrazza Sul Duomo, where you need to stay here to get to the roof. It is one of the things you must do in Italy.
8. Italian Dinner
A common misconception is that Florence is as expensive as Venice. Let's prove them wrong. Have a delicious Italian dinner at Trattoria San Pierino or Ristorante Brandolino, where you have two freshly prepared portions of pasta and drinks for 20 EUR – 30 EUR.
How to get to Florence
Florence has an international airport with flights arriving from major cities throughout Europe. You can get a tram that takes you from the airport to the city center for 1.50 EUR (1.50 USD).
By car
Florence is accessible by car and not as hard to navigate compared to busier cities like Rome.
If you're renting a car in Italy we recommend Sunny Cars as they work with local car rental companies. When booking through Sunny Cars, the price already includes all insurances. Book your rental car here.
By train
Florence is easy to reach by train as the city is well-connected to all major stations in Italy. The international airport offers direct flights to many European cities. Getting from Rome to Florence only takes 80 minutes with the high-speed railway line.
Where to stay in Florence
Florence has plenty of great accommodation options, from cute guesthouses and budget-friendly hostels (search for your hostel here) to luxury hotels.
Santa Croce is the best area to stay with loads of small bars and walking distance from all the things to do in Florence. We stayed on the riverside, away from the busy streets at Palazzo Del Moro Firenze.
How much does Florence cost?
Budget
Hotel: 60 – 250 USD / night
Food: 20 – 60 USD / day
Entrance fee: 15 – 80 USD
Transport: 0 USD (walking!)
Water: 1.5 USD / 1.5L
Fruit: 2 USD / bunch of bananas
Guesthouse: 75 USD / night
Best Time to Visit Florence
Florence is a great destination to visit all year round, particularly in the shoulder seasons of spring and fall when the days are sunny, but the temperatures are perfect for sightseeing. Summer is the busiest time to visit Florence, but the best time if you want to use the city as a jumping-off point to other destinations in Tuscany.
Did you know that …
When you purchase something through our links we earn a small fee. However, you still pay the same. Win-win!
Salt in our Hair
17/11/2022
https://www.saltinourhair.com/italy/florence/
Last updated:

8 June 2019