All villages can be visited within a single-day trip, but if you are into hiking, two full days in the national park are recommended. If visiting for the day, it's best to join an organized tour that will include return transportation from your city, a guide, and even a delicious local lunch!
Should you visit all five villages? They are quite similar, so it is best to read each village's description and decide on your own.
Tip: You could use Cinque Terre (La Spezia) as a starting location for your Tuscany road trip.

Vernazza, Cinque Terre
Vernazza is the most picturesque village in Cinque Terre and, thereby, also the most visited. The harbor area has a couple of terraces, relaxing areas, a small beach, and an old castle tower that you can visit on top. The hiking trail leads to a viewpoint for a panoramic view over the harbor of Vernazza.


Manarola
Manarola in Italy, with its surrounding vineyards, is a small village similar to Vernazza. Less visited, and even better walking routes. Don't miss the view from the Nessun Dorma terrace. Book a boat tour in the area for a totally unique perspective of the coastline.
No time to read now?
No worries! Save on Pinterest to read it later.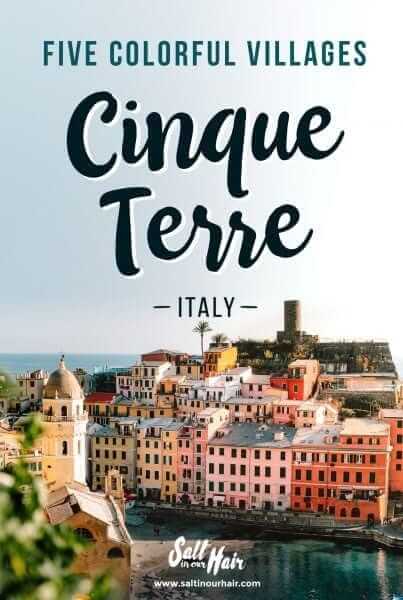 Good to know: Do not visit Cinque Terre by car. It is hard to get into the villages, and parking fees are as expensive as two train tickets from Pisa to Vernazza.

Riomaggiore
Most people who spend the night inside Cinque Terre will stay in Riomaggiore. It is one of the bigger villages and has loads of small hidden streets to get lost. Wear good shoes as this village is built against steep rocks, which requires a little hiking to reach the top. The best part of Riomaggiore is the view of the harbor.


Monterosso
Ready to relax on a beach? Monterosso is a village that has a large sand beach with sunbeds and umbrellas in high season. This village is also a good option to spend the night and see the sunset. Other than that, it isn't as beautiful as all the other villages.

Corniglia
Corniglia is a more local and laid-back village. It is the least visited because it is the only village where the train doesn't stop in the center. At the train station, you can either hop on a shuttle bus or take the stairs up to Corniglia. Corniglia is popular with hikers because you can do a few great hikes from this point.


Portovenere
While Portovenere is not part of Cinque Terre National Park, it is highly worth a visit. A little medieval town with loads of little streets to get lost, a harbor with terraces, and inside the old city guide is a narrow, colorful shopping street that leads towards the old church: Chiesa di San Pietro.
You can quickly get to Portovenere by bus from La Spezia. Ask the locals or use Google Maps.

How to visit Cinque Terre
By Car
It is not recommended to drive a car to Cinque Terre as the area is hard to reach and parking fees are very high. Better park your car near the train station in La Spezia and take a 10-minute train ride to reach the first village of Cinque Terre.
By Train
Cinque Terre's train network makes it easy to get from one village to another because it runs every couple of minutes. A single train ticket costs 4 EUR, a Cinque Terre day pass 16 EUR, and two-day 29 EUR. The price includes entrance to all the hiking routes.

By Ferry
Easily hop from one village to another by using the Cinque Terre Ferry. A day pass costs around 25 EUR per person.
Organized Tour
Alternatively, join an organized tour from bigger cities like Florence or Milan that include return transportation, a guide, and any other train or boat tickets you may need to explore inside Cinque Terre National Park.
Airports near Cinque Terre
To reach Cinque Terre by air, fly to the closest airport, which is Pisa or Genoa. From there, hop on a 1-hour train ride. (Get your train tickets here).
Find flights to Cinque Terre ✈️
Where to stay in Cinque Terre?
Accommodations inside Cinque Terre National Park are booked far in advance. Hotels are mostly available in Riomaggiore and Monterosso but expect to pay way over your typical budget per night.
A more affordable choice is to stay in La Spezia, where hotels start at 35 EUR a night. Alternatively, for the most budget-friendly option, search for a hostel in the area.
Best time to visit Cinque Terre
As the majority of the visitors make a day trip to Cinque Terre, the best times to visit are before 09:30 AM and after 4:30 PM. If you have the flexibility to do more than a day trip, it is recommended to spend the night at one of the five villages or a hotel in La Spezia.

If you can only make a day trip, take the train as early as possible. The train runs 24/7, so you might want to start at 6:30 AM and enjoy the calm morning. (Find the best train tickets here)
Date-wise, before April and after October is the less-visited months but also have the most chance of rain and cold weather.
Did you know that …
When you purchase something through our links we earn a small fee. However, you still pay the same. Win-win!
Salt in our Hair
23/05/2023
https://www.saltinourhair.com/italy/cinque-terre/
Last updated:

May 23, 2023