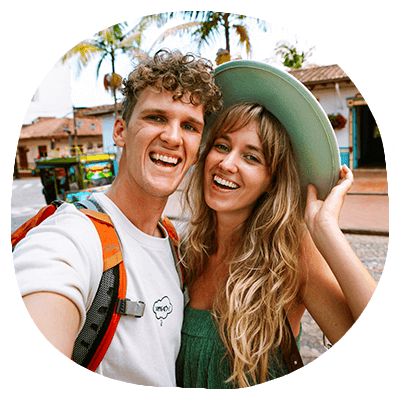 Hi, we're Nick & Hannah!
We hope you're enjoying our free travel guides & tips! If so, please consider supporting our work. 🤗
Panoramic viewpoint Tumpak Sewu
The top of the waterfall can be seen from a panoramic viewpoint and is just a 10-minute walk from the parking area. From the viewpoint, you will see a curtain of silky smooth waterfalls. It is unlike any waterfall you have ever seen. So different from the waterfalls in Bali, for example.
Tumpak Sewu Java
Subscribe to our YouTube channel and never miss a video!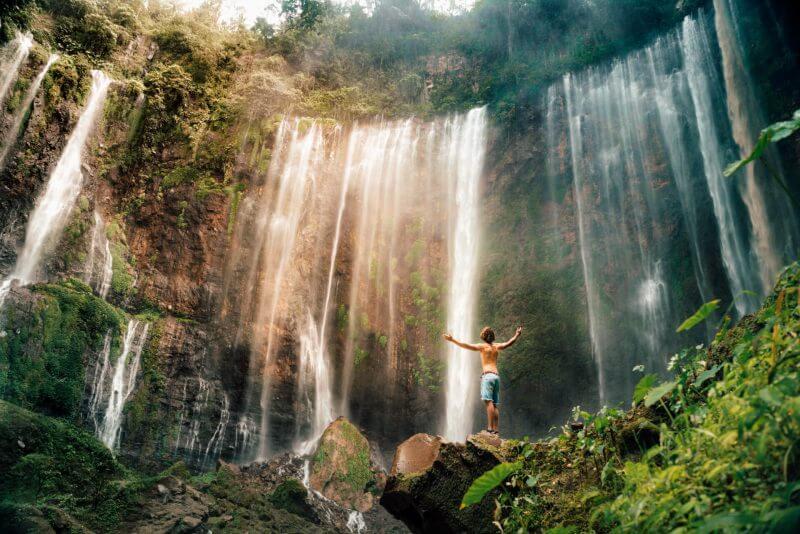 Tumpak Sewu is the easiest to visit via Malang. 
Hike to the foot of Tumpak Sewu
Visiting the foot of the Tumpak Sewu waterfall is a must-do experience. Although you can't swim at the foot, it is incredible to feel all that water force on the ground.
Hiking Tumpak Sewu
It is a 30 to 40-minute walk down via bamboo stairs and through small streams. You have to be fit to do this walk down. It is not dangerous, but you do have to watch your steps and be careful. Do not wear flip-flops, but wear sandals instead.
No time to read now?
No worries! Save on Pinterest to read it later.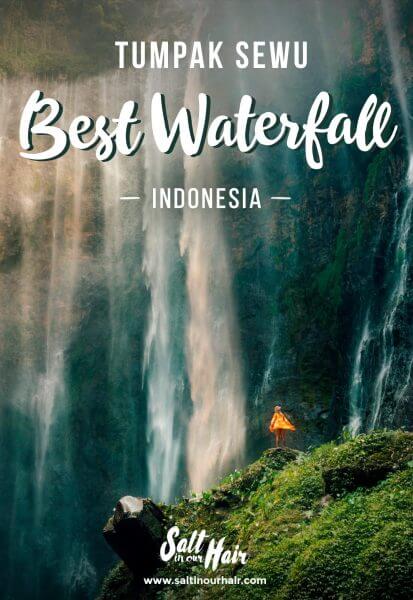 After you are done descending to the ground, you have to walk for another 5 minutes crossing two walking bridges over the river to get to Tumpak Sewu.
Once at the foot of the waterfall, feel that incredible power, take a rest, and, of course, a lot of photos. Take a few lens clean clothes because your lens will get wet. If there is one place in the world we would go back to; it would be the best waterfall in Indonesia.
Expect to spend about 2 to 3 hours at the waterfall, including the hike down and up.

Good to know:
Take water; there are no shops at the foot of the fall.
Bringing a waterproof bag is useful but not really needed.
Wear and take mosquito repellent. The jungle has a lot of those flying friends :)
Local guide
Now we are the people who usually don't take a guide. We did take a local guide here, and we highly recommend you do as well. You can ask for a guide at the parking area.
Our local guide, Wawan, was super experienced, could not speak any English (that's good!), helped us with every single step, and even took photos. We paid him 100K to take us down and up and another 50K tip because he is an absolute hero.
Visiting Tumpak Sewu, the best waterfall in Indonesia
The waterfall is a bit out of the usual Java Route. From Malang, it's a 2-3 hour drive. Depart from your hotel in Malang at 5 AM to avoid traffic jams. You could do a tour from Malang or rent a driver for the day.

Contact our great driver Azhar on Whatsapp (+6281336042045). Make sure to tell him you came via 'Salt in our Hair' so you'll get the best price.
Lumajang
Another option is staying in Lumajang, which is a bit closer to the waterfall. But when you are planning to do a Bromo tour on your trip through Java, a day trip from Malang is your best option.
Drone Tumpak Sewu
Taking a drone is possible, but be careful since there is strong interference at the foot of the fall.
Did you know that …
When you purchase something through our links we earn a small fee. However, you still pay the same. Win-win!
Salt in our Hair
26/09/2023
https://www.saltinourhair.com/indonesia/tumpak-sewu-waterfall-indonesia/
Last updated:

September 26, 2023