11 Things To Do in Labuan Bajo, Flores
11 Things To Do in Labuan Bajo, Flores
Labuan Bajo is a small town where the tourism industry has taken a huge step over the last few years due to the opening of Komodo Airport. The town is the entrance port to the incredible Komodo Islands in Komodo National Park. Spend two days in town to get to know the things to do in Labuan Bajo.
Save this on Pinterest to read it later ↡
1. Explore the local life
Life outside Labuan Bajo town is basic but beautiful to see for yourself. Rent a motorbike and drive through the villages. Expect surprised faces of the people living there, and once you start waving, friendly smiles are their kind answer. One of our favorite things to do in Komodo was trying to interact with locals.

Tip: Renting a motorbike costs about 60K IDR (4 USD) per day.
2. Labuan Bajo's secret viewpoints
You don't have to visit one of the Komodo Islands to have a beautiful view. A 30-minute motorbike ride out of town through the local villages and over a dusty road takes you to a beautiful viewpoint. This is the exact location.

➳ Find hotels to stay
3. Visit Rangko Cave
Rango Cave is a tucked-away gem, relatively close to Labuan Bajo. The pristine blue water inside the cave contains that much salt that it will keep you floating easily. It is a 1.5-hour motorbike drive to the pier followed by a boat that takes you to the cave. Highly worth the visit!

➳ Also read: Things you must see in Komodo
4. Chill at the Le Pirate rooftop pool
Labuan Bajo owns a few cool places to hang around, relax and spend your day. One of those places is the rooftop pool of Le Pirate. They serve delicious drinks and tasty snacks and offer a beautiful view of the harbor.
5. Taste Italy at La Casuna
Labuan Bajo hosts a very good Italian restaurant, owned by a real Italian. The balcony with fresh sea breeze offers a view over the harbor.
6. Komodo National Park Boat Tour
Spending one or more nights on a boat, waking up in the middle of the national park, local delicious meals, and having fewer tourists around you is an experience of a lifetime. Loads of companies offer these tours from Labuan Bajo in any kind of comfort.

➳ Read more: Komodo Islands tour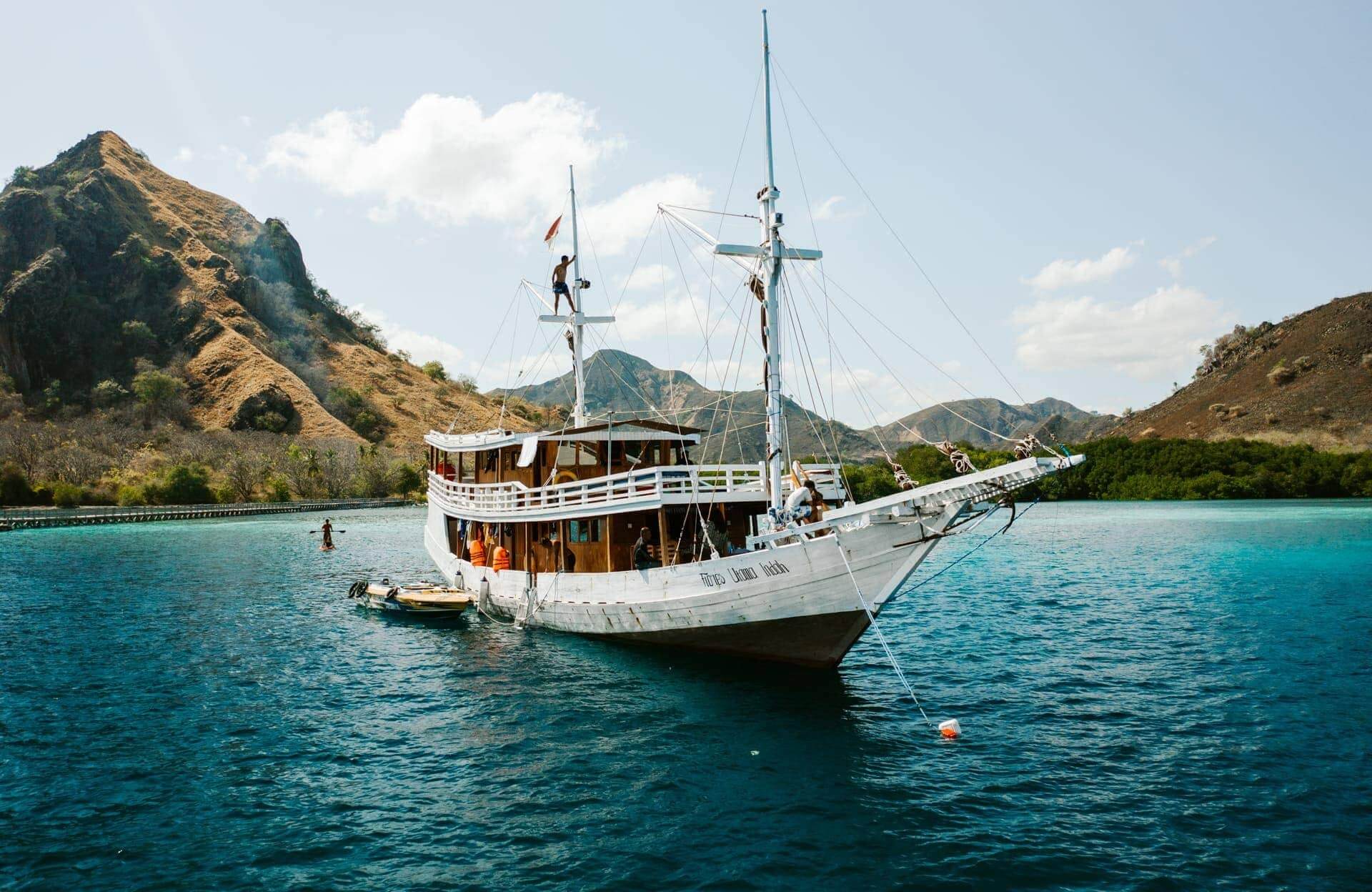 7. Discover Labuan Bajo Town
Labuan Bajo is a small town, you are able to walk around in 30 minutes. From the main street, take a look in the small side streets and walk at the boulevard near the water.

➳ Find hotels to stay
8. Try incredible sushi
If you love fresh fish, you have to eat at Happy Banana! Although the name doesn't sound very promising, this sushi restaurant offers an incredible quality of fish.
9. Staircase to Heaven
A good place to watch the sunset near Labuan Bajo town is the Staircase to Heaven, also called Bukit Cinta. It is an easy 8-minute drive outside of town and the staircase is easy to walk up.

➳ Must read: 3-week Indonesia Route
10. Coffee and Breakfast
The best coffee and breakfast place in Labuan Bajo is Bajo Bakery. Quite a lot of space and they even offer WiFi if you really need this.
11. Eat fresh fish at the market
Enjoy fresh and affordable fish prepared at one of the small food stalls. The market in Labuan Bajo is open daily directly after sunset.
Salt in our Hair
27/11/2019
https://www.saltinourhair.com/indonesia/labuan-bajo-flores/