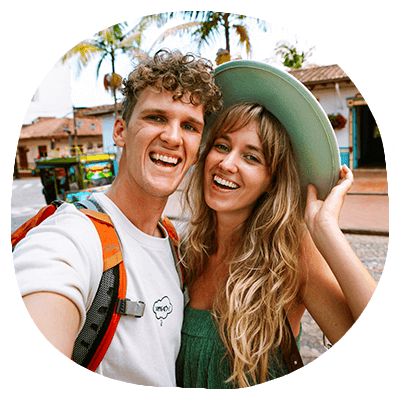 Hi, we're Nick & Hannah!
We hope you're enjoying our free travel guides & tips! If so, please consider supporting our work. 🤗
Statues at Gili Meno
The statues beneath the sea level is a project called 'Nest' of sculptor and underwater photographer Jason DeCaires Taylor. Placed to act as an artificial reef, the underwater statues at Gili Meno ensure that corals start growing on it. This resulted in many fish swimming around the statues. At the same time, it functions as a dive and photograph site that creates jobs for the locals on the Gili Islands.
Jason placed multiple human-made reefs in the shallow waters around Gili Meno and other locations around the world.
No time to read now?
No worries! Save on Pinterest to read it later.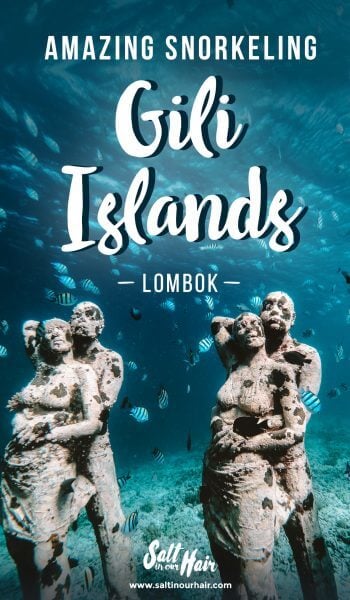 The expectations are that the statues will turn into a fully established reef with a lot of fish finding food.
How to visit the underwater Statues at Gili Meno
The statues at Gili Meno are accessible to anyone. You can either visit this piece of art by boat trip from Gili Air or Gili Trawangan or stay at Gili Meno and swim 5-minutes from the beach.
For tickets to Gili Air, contact our good friend Yande below.
Book a local driver or tour
Contact our friend Yande with his Bali Friend Tour team. We've done countless incredible trips with him in the last 6 years!
Taking a boat to snorkel at Gili Meno is one of the best things to do on Gili Air. From both Gili Air and Gili Trawangan, it takes a short 15-minute boat ride to reach the diving/snorkeling site. You don't need to be a skilled diver or snorkeler to see the statues with your own eyes, as they are right below the water's surface.
Due to its easy accessibility, the snorkeling site is slowly becoming famous with photographers and visitors. The best time to visit the site is in the early morning.
Alternatively, you can take a day trip from the bigger island of Lombok. The trips normally include round-trip transportation, snorkeling, a guide, and visits to other Gili Islands.
Snorkeling at Gili Meno
Between Bali and Lombok are the tiny Gili Islands. Gili Meno is the smallest and quietest island of the three Islands. The island is one of the best places to find turtles, and it has a saltwater lake in the middle of the island. From Gili Air, it is a quick boat ride to Gili Meno.
Where to Stay on Gili Meno
There are plenty of beautiful places to stay in Gili Meno, from cute forest bungalows to luxury beach hotels. However, if you want more options, look to stay on bigger islands like Gili Trawangan, Gili Air, or Lombok. See all hotels in Gili Meno.
Did you know that …
When you purchase something through our links we earn a small fee. However, you still pay the same. Win-win!
Salt in our Hair
04/02/2023
https://www.saltinourhair.com/indonesia/gili-meno-statues/
Last updated:

February 4, 2023