This is a place where women wash clothes together by the river, communities are loving, and families help each other collect coconuts from the trees. There is constant chatter, warm smiles, and the hand of friendship extended at every turn.
Tip: Go out into the rural villages and meet the people that give Kerala its name. Eat with a family in a homestay, help out in the village, and learn about this extraordinary corner of India.
Is our article helpful to you?
Help us keep making these articles for you by supporting us with a cup of coffee. ☕️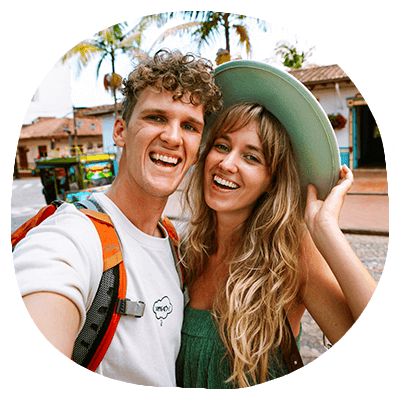 To Explore the Backwaters by Boat
Kerala is characterized by its famous backwaters: calm lagoons and rivers that interlace in a stunning waterways network. Start in Alleppey, or Kumarakom, and spend a few days staying on a traditional houseboat. Enjoy sailing the calm river, spotting exotic wildlife among the palm tree forests, and colorful birds skim the waters.
There's no doubt that the sceneries of Kerala are one of a kind, as you watch fishermen quietly catching dinner in a sunset haze.
To Discover Tea Plantations
The tea plantations, and hill stations, of Kerala, add another element to the beauty of this region. Vibrant green hills rise out of the cool mists, as tea leaves grow in stunning rows and swirls.
Did you know? Tea was brought here during the British colonization, so there is a lot of history to learn about in this region.
Because of its high elevation, the weather is much more refreshing than the lowlands. As such, it's perfect for growing tea, spices, and coffee. Once you've explored all that the plantations have to offer, discover other delights in the region of Munnar. For example, humid jungle treks and exhilarating waterfall dips.
To Discover Spirituality
Keralans are incredibly spiritual, believing that they are at one with the sky, earth, trees, and animals. This spirituality, and the belief that God blessed this area with natural beauty, led Kerala to be known as 'God's own country'. Not only this but the history of seafaring means there is a fusion of many religions. Christians, Muslims, and Hindus live peacefully side by side in this unique cultural melting pot.
Ayurveda Retreats in Kerala
Part of this spiritual, natural way of living is Ayurveda medicine. This is a natural healing process that involves balancing your mind, lifestyle, diet, and energy. This type of healing is particularly popular in Kerala because of the abundance of medicinal herbs and plants used for Ayurvedic treatments.
Taking part in an Ayurvedic retreat is highly recommended while in Kerala. Normally, packages include treatments, yoga, meditation, meals, and beautiful accommodation. 
To Explore the Kerala Coast
Kerala is even blessed with a beautiful coastline! Red earthy cliffs topped with tilted palm tree forests blow in the breeze, above blue waters that lap the white sandy shores.
To See Unique Wildlife
A huge draw of Kerala is the incredible wildlife living within touching distance of villages and towns. Not only is it home to the Indian elephant, but also the regal tiger. Although sightings are rare, it's worth taking your chances at one of the national parks such as Periyar or Wayana. Even if you don't see a tiger, the experience of safari is hard to beat for animal lovers and adventurers.
Best Time to See Elephants in Kerala
The months of March and April, when the elephants like to play in the water because of the heat.
Note: Make sure to do your research when it comes to taking part in safaris in national parks.
Tip: Food is a huge part of life here in the 'land of spices'. If you can, try to eat with a local family, as this is the most authentic, and delicious, way to sample Keralan cuisine. Remember that the proper way to eat curry in India is with your hands!
To Enjoy Beautiful Weather
Kerala has warm temperatures all year round, as well as monsoon rains that make the countryside luscious and green. Different seasons are good for different things, depending on what you want.
For example, the end of the monsoon season (September/October) is much quieter, and greener. As a result, it is better for those who want to go on a retreat or wish to explore the plantations at their most luscious. On the other hand, beach lovers and sun-worshippers will prefer the dry, hot months of November to February. 
This article is sponsored by Kerala Tourism and images provided by Unsplash.
No time to read now?
No worries! Save on Pinterest to read it later.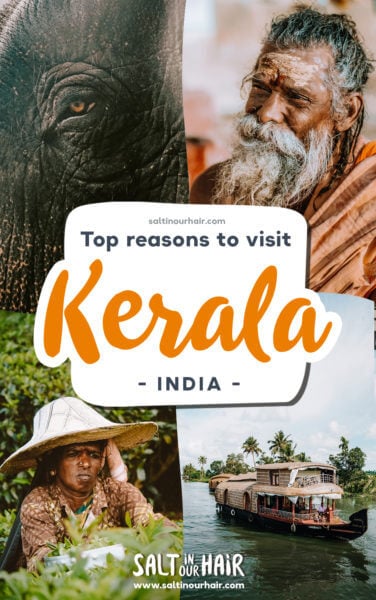 Salt in our Hair
26/10/2021
https://www.saltinourhair.com/india/kerala-reasons-to-visit/
Last updated:

13 November 2020