1. Natural Hot Spring Landbrotalaug
Have a bath in a 40-degrees natural hot spring after a day of driving in Snaefellsnes, Iceland. There are two hot springs located in the area. The biggest one is near the pump and a 4-person hole just across the river.
Good to know is that there aren't any changing rooms or toilets out here. Follow Google Maps to the hot spring that leads you over a bumpy gravel road.

2. Kirkjufell on Snaefellsnes
The Kirkjufell mountain is the icon of Snaefellsnes. This is one of the top photographed spots in Iceland. The waterfall shot is perfect with mount Kirkjufell in the backdrop. There is a parking place just on the side of the road so it's easy to visit. Kirkjufellsfoss belongs to the most beautiful waterfalls in Iceland.

3. Picturesque churches
Two of the most picturesque churches in Iceland is located on this peninsula. The first one, Ingjaldshólskirkja is a hidden gem. The second, Búdakirkja is a black church and well known for wedding shoots.
4. The cliffs at Arnarstapi (Snaefellsnes)
Arnarstapi is a cute little village with huge cliffs where waves hit. There is a small walking route that automatically leads you to the highlights.
No time to read now?
No worries! Save on Pinterest to read it later.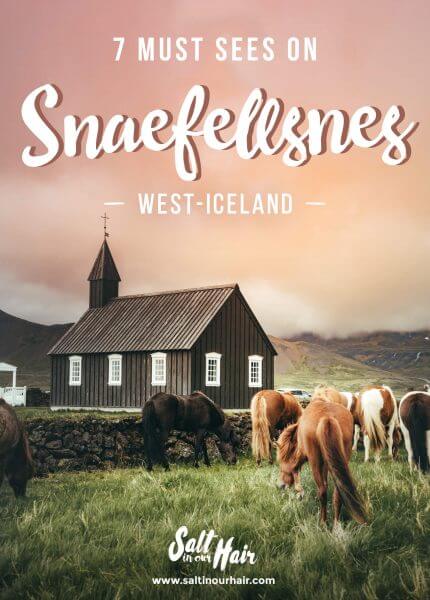 Snaefellsnes owns one of the best campsites in Icelandd called Olafsvik Campsite. Highly recommended to spend the night here.

5. Driving through the lava fields
As far as we known, Snaefellsnes has the only lava fields with a road in between. Take a little detour on one of the gravel roads and drive through the weird fields of lava. This was near Berserkjahraun on Google Maps.
If you have the time, visit Hellissandur. It's a tiny village that owns a street art section.

6. Volcanic crater Eldborg
Near the natural hot springs is the old volcano Eldborg which was active thousands of years ago. The hike to the crater is about 40-minutes.
Did you know that …
When you purchase something through our links we earn a small fee. However, you still pay the same. Win-win!
Salt in our Hair
27/10/2023
https://www.saltinourhair.com/iceland/snaefellsnes-west-iceland/
Last updated:

October 27, 2023