Iceland weather in summer
In Iceland, the weather can change very quickly. One moment you can be on a hike with freezing winds and around the corner, you could be sitting in your t-shirt enjoying a lunch in the sun at a waterfall. Just expect to experience sun, rain, some snow, and wind, a lot of wind.
The summer period in Iceland runs from April until September. In the middle around July, the temperature ranges from 8–15 celsius. If you're lucky, you'll experience some great warm summer days with 20–25 degrees!
Wear layers in Iceland
Expect to bring every kind of clothing, no matter what the season is. The most important things to add to your Iceland packing list are; layers! Pack extra shirts, vests, socks, underwear.
No time to read now?
No worries! Save on Pinterest to read it later.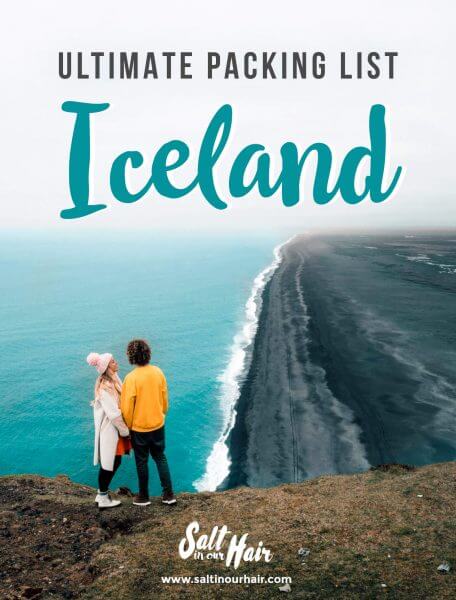 Iceland packing list
Now, what should you actually all pack for Iceland in summer? This list is based on personal experiences of a 12 day trip through Iceland and also depends on the activities you are planning to do.
Tip: Plan to visit many hot springs. A warm bath in Iceland is the absolute best feeling. Read about all the hot springs in Iceland.
Iceland packing list for a summer trip
Wind & rainproof jacket
2 or 3 warm jumpers
5 t-shirts
A set of thermals (for hiking)
A warm hat
Swimwear (to dip in the Hot Springs)
Towel (for hot springs)
Good weatherproof boots
Loads of warm socks
Gloves
Power adapter (Euro plug, type C/F)
Sunglasses
Sunscreen (The sun in Iceland is super strong and can be dangerous. Even if you are used to the sun!)
Toiletries
Passport
Travel insurance (Here's how to find the right travel insurance)
International driver license
Driver license
Offline music like Spotify (to sing along during long beautiful drives)
Camping in Iceland
The best way to see Iceland is camping. Expect to bring more items that will keep you warm or that make your journey easier. Camping is well organized in Iceland, loads of campsites available with showers and toilets. We recommend you to add these items to your packing list for Iceland.
Take food (Groceries in Iceland are expensive! We took peanut butter, protein shakes, energy bars, etc)
Wear layers during the night
Warm sleeping bag
Eye mask
3 x extra towels (for showering)
Clothespins
Earplugs
During the summer in Iceland, it doesn't get dark at night. Take clothespins to hang extra towels in front of your car window and create darkness for a good night rest.
Photographing in Iceland
Iceland is the absolute dream for every photographer, amateur or not. The next corner is even more picturesque as the one you just came from. Taking photos in Iceland sometimes has to be done in challenging conditions.
Always take a handful of cleaning cloths with you so you clean your lens from the fog or mist from the waterfall.
Backpack VS suitcase
Taking a backpack or suitcase depends on the kind of trip you're planning to do. Are you driving around in a big car or campervan? Take a suitcase that would fit in your car. Or if you are planning to hitchhike or rent a small car, simply choose for a backpack to be flexible with space.
Did you know that …
When you purchase something through our links we earn a small fee. However, you still pay the same. Win-win!
Salt in our Hair
20/10/2023
https://www.saltinourhair.com/iceland/packing-list-iceland/
Last updated:

October 20, 2023