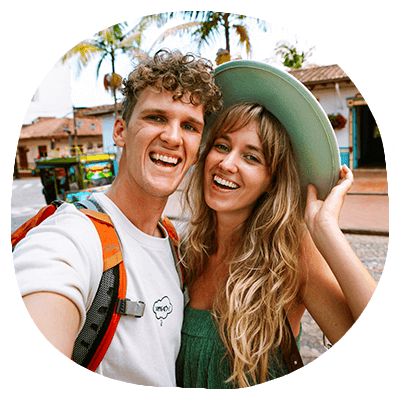 Hi, we're Nick & Hannah!
We hope you're enjoying our free travel guides & tips! If so, please consider supporting our work. 🤗
As you approach the village from the road, you can already spot the white cubed homes and beautiful church sticking out between the hills. Lefkes, full of stunning traditional architecture, friendly locals, delicious food, and an incredible atmosphere, makes a great destination for a half-day trip while you explore Paros, Greece.
Lageri Beach: crystalline waters, soft sand, and lush surroundings perfectly sum up what you can expect from this tranquil beach. Spend a little while cooling off in the stunning waters, looking out onto the shimmering Aegean Sea. It's a bit of a walk to get to the beach from the parking lot, but worth the trip!
Monastiri Beach: This is one of the most beautiful beaches in Paros, Greece. Located close to the bustling town of Naoussa and just outside Paros Park, this rocky bay is a great place to swim and sunbathe. Watch as visitors dip in the calm waters in front of the imposing rocks while you bask in the warm Mediterranean sun from one of the beach clubs.
Salt in our Hair
30/07/2023
https://www.saltinourhair.com/greece/paros-greece/
Last updated:

July 30, 2023