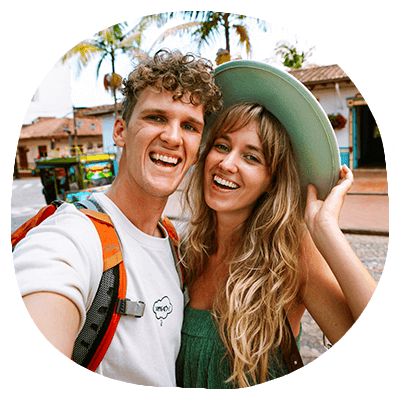 Hi, we're Nick & Hannah!
We hope you're enjoying our free travel guides & tips! If so, please consider supporting our work. 🤗
The varying colors of ochre made it the perfect material to use for the houses here. As a result, everywhere you look in Roussillon is as colorful as an artist's palette, with houses ranging from terracotta oranges to dusky pinks, warm yellows, and deep reds. Each house is complemented by colorful shutters and painted doorways.
All of this, plus the clear blue summer sky and bright green trees, make Roussillon's scenery truly magical.
Visiting Le Sentier des Ocres (The Canyon)
Le Sentier des Ocres (The Canyon) is the former ochre mine next to Roussillon. The canyon is incredibly deep as it was mined for ochre (a natural clay) for many years. Now the valley has been turned into a trail for visitors, worming among the waves and ridges of the cliffs. Most impressive of all is the amazing variety of colors of the clay you'll see on the pathway, moving from deep reds to golden yellows and dark browns. At times, it's hard to believe you're in France!
There are many myths about the red color of the clay that can be found here. One of the dramatic legends is that it's the blood of Lady Sermond who jumped off the cliffs after an altercation with her jealous husband.
These stories make for some interesting discussions as you walk among the vivid colors and see the incredible views from the trail!
Routes and Opening Times
There are two different routes you can take at 'Le Sentier des Ocres'. The longer route is just around an hour, and the shorter one is approximately 30 minutes.
Opening times: Every day from Mid February – December. In the summer months, the trail is open from 9 AM – 7.30 PM. Please note that the opening hours in the winter vary and are much shorter.
No time to read now?
No worries! Save on Pinterest to read it later.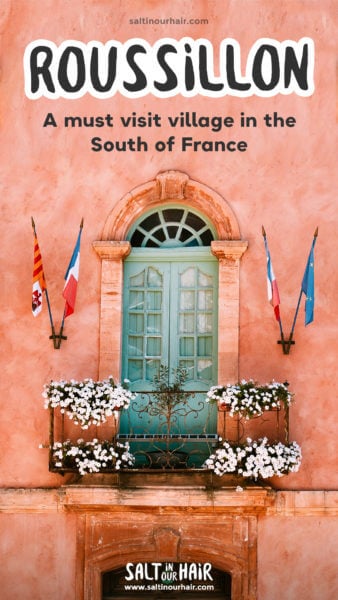 Roussillon village in France
The village is tiny, so it won't take long to walk around. Start in the main square, Place de la Marie, and enjoy a cup of coffee in one of the restaurants while people watch the locals go about their day-to-day errands. After, walk in the maze of narrow streets before finding your way to the beautiful church, Eglise Saint Michel. This charming church has a 19th-century clock tower with bells and is a lovely spot to sit down and take in the sights and sounds of Roussillon, France.
The poetic scenery of Roussillon has drawn many artists to the village, many of which now call it their home. Because of this, you can find lots of amazing art galleries here. There are also lots of boutique shops selling lavender products and other local delicacies. Save some room in your bag for all the souvenirs and gifts you'll want to buy!
Tip: Every week, on Thursday, Roussillon puts on a wonderful market selling local produce. Enjoy shopping for charcuterie, wine, and fresh fruit and vegetables.
How to get to Roussillon, Provence
Roussillon sits deep inside the Luberon natural regional park. It's surrounded by beautiful nature and is very remote and peaceful. Because of this, It's easiest to reach Roussillon by car as there aren't many public transport connections. When arriving by car, you can find parking areas here and here.
However, If you're traveling by train, get off at station 'Cavaillon'. From here, it's possible to take a public bus to Roussillon.
Another option is to book a day tour to visit the area. This normally includes a tour guide and your transport. They leave from neighboring cities like Avignon, Aix-en-Provence, or Marseille.
Where to Stay in Roussillon, France
A lot of people visit Roussillon on day trips from other larger French cities like Marseille or Avignon. However, it's a great place to relax for a few days and take in the pace and charm of French life.
Best Time to Visit Roussillon
One of the best things to do in Roussillon, Provence, is walk on the ochre trail, so it's best to visit in the months when the trail is open.
Late spring/early summer is a great time to visit; it's not too hot, but the trail will be dry, and you'll be able to enjoy the streets of Roussillon bathed in sunshine!
Did you know that …
When you purchase something through our links we earn a small fee. However, you still pay the same. Win-win!
Salt in our Hair
25/07/2023
https://www.saltinourhair.com/france/roussillon-le-sentier-des-ocres/
Last updated:

July 25, 2023