Fine lavender is used for its medicinal properties and is typical of Provence. In fact, it doesn't grow anywhere else in the world! This type of lavender is used to create perfumes and essential oils that are known for their relaxing, stress-relieving properties. 
Lavandin smells much stronger and can't be used as medicine. Instead, it's used to create lavender bags and other smelling products sold in the local shops as souvenirs and gifts.
Where to See Lavender Fields in France
There are many beautiful areas of Provence where you can see lavender fields. You'll find postcard-worthy scenes of rolling fields of lavender, olive trees, cottages, and mountains close to stunning hilltop French villages. 
The best area to see lavender fields in Provence is the Plateau de Valensole. As you drive along the winding roads, you'll find some of the most Instragrammable travel spots in Europe; lavender adjacent to sunflower fields, striking olive trees sticking out among the flowers, and abandoned farmers' cottages. The clash of vibrant summertime colors against the summertime sky is beautiful, a moment to experience the magic of nature. Many of the fields are also west-facing, so you'll get to see the pretty sunset colors against the fields in the evening.
Valensole village
The Valensole Plateau is also home to the remarkable hillside village of Valensole. Besides being extraordinarily pretty, there are great options for accommodation, as well as cute boutique shops where you can buy your lavender souvenirs. Down in the valley, there are lots of lavender farms to choose from, where you can take some memorable photos and learn more about the local produce.
Best Lavender fields in Provence
1. Lavendes Angelvin 
From location 1 and the nearby roads, you have a view of the snow-topped mountains with the flowers in front; this is one of the most extraordinary views in all of Provence! The entire valley around this area is mesmerizing.
Lavendes Angelvin is a working farm with a shop on site where you can buy essential oils, soaps, and other lavender gifts and souvenirs. You can also take part in a tour where you can learn more about the production and the history of the estate. 
2. Sunflowers & Lavender
At location 2, you'll find beautiful rows of symmetrical lavender. If you pick the right time, you'll also see the adjacent fields of sunflowers which provide a unique, vibrant color clash of yellow and purple.
3. Scenic Landscapes
When you visit location 3, you'll see blooming lavender fields everywhere you look. This huge wide-open landscape is a fantastic place to take photos of the fields stretching out to the sky. Spend a few hours here watching the sky change as the sun goes down.
Is our article helpful to you?
Help us keep making these articles for you by supporting us with a cup of coffee. ☕️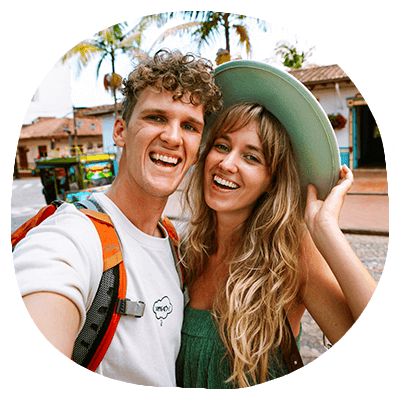 4. Greoux Les Bains
Location 4 is the lavender area close to the town of Greoux Les Bains (an excellent place to stay on your trip). It's a beautiful drive, as fields of lavender follow all the way along the road, so you can also get some great photos from the car. 
Other Lavender Fields in Provence
There are also some other great locations in Provence to see the French lavender fields. 
Pays de Sault (Vaucluse)
Luberon (Vaucluse) 
Drome Provencale
Tips for Visiting Lavender Fields in Provence 
Visiting the lavender fields in Provence is one of those bucket list experiences you'll remember forever. However, part of being a responsible traveler is looking out for the beautiful nature we're so lucky to have.
Respect Farmer's Wishes
Remember, these are working farms, so respecting the local producers and their wishes is essential. If signs are asking you not to enter, please acknowledge them. 
Careful of the Crops
Most important of all, make sure to be careful about harming the crops. The lavender in Provence is a huge part of the economy, and it's vital to protect this. With this in mind, if it's busy at one location, move on to the next to avoid overcrowding.
Tip: The region is enormous, so you will find a quiet space to enjoy or take photos.
Keep Drones at a Distance
Bringing a drone? Getting a birds-eye view of the lavender fields in Provence can make for the most spectacular photos. However, with flowers, come bees and there are thousands of them in the lavender fields. They don't like the sounds of the drone, and they will attack it if it comes close to them, meaning they might risk being harmed. Because of this, don't fly the drone low over the flowers and take off far away. 
How to Visit the Lavender Fields in Provence
If you're arriving in Paris, you can take the train to Provence (local train stations to Valensole are Aix-en-Provence or Marseille). However, be aware that the train journey is long, approximately 7 hours. 
The nearest airport is Marseille, which is only a 1-hour drive from the Valensole Plateau. We recommend hiring a car from the airport or in Marseille city for your trip.
Getting Around
Rent a car and drive between all the most famous lavender fields in Provence to have the most flexibility. This is the best way to see the area, mainly because there are no public transport options. 
Rent a car in France through Sunny Cars as they work with local car rental companies. When booking through Sunny Cars, all insurances are already included in the price. Book your rental car here.
However, if you aren't able to drive, there is also the option to join guided tours from the bigger cities. These tours will take you around some of the top spots, but you will have to stick to a fixed schedule. 
Best Time to Visit French Lavender Fields
Provence's lavender fields are in bloom for a very short time window, generally from the middle of June or July until the end of July/ beginning of August. However, by August, many of the fields have been harvested.
Over these weeks, you'll see it change from a faded grey color to a vibrant purple. Each field may bloom at a different time, so make sure to research well ahead of your trip, so you don't miss out on seeing your bucket list fields. 
Because there is such a small amount of time to see the lavender fields, it can be busy, and prices will rise in the local towns for accommodation. That's why the end of June is an excellent time to visit as the summer holidays at the schools in France aren't taking place yet. 
Where to Stay Lavender Fields in Provence
Valensole is a lovely little town to stay in on your trip to Provence. However, it's a small town and the accommodation options, although pleasant, are limited. Because of this, many people choose to stay in the bigger nearby cities of Greoux Les Bains or Marseille, traveling by car each day to the lavender fields. 
Things to do near the Lavender Fields in France
The lavender fields in Provence are the main attraction on your trip. However, there are also some other great things to do while you're there. For example, the hilltop town of Valensole, walking among the lavender fields, or taking a day trip to Gorges du Verdon (a vast natural canyon that's great for kayaking).
No time to read now?
No worries! Save on Pinterest to read it later.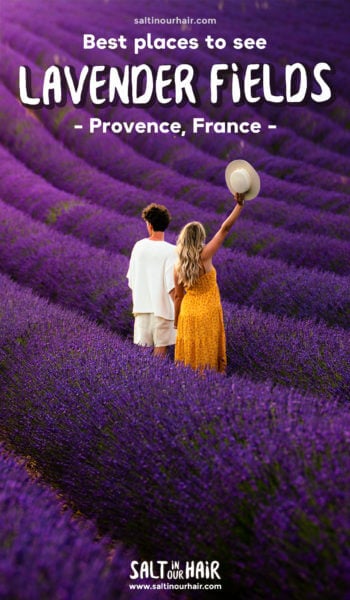 Salt in our Hair
07/01/2022
https://www.saltinourhair.com/france/lavender-fields-provence/
Last updated:

7 January 2022