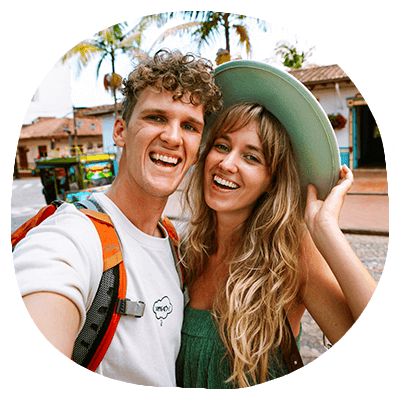 Hi, we're Nick & Hannah!
We hope you're enjoying our free travel guides & tips! If so, please consider supporting our work. 🤗
Visiting Gorges du Verdon
Gorges du Verdon is an amazing natural phenomenon. It used to be underwater 250 million years ago but as plates moved and glaciers melted, the gorge was formed. Now, it's one of the biggest gorges in Europe!
What's most unique about the Gorges du Verdon is its stunning turquoise water caused by glacial minerals. Enjoy paddling between the sheer cliffs covered in vibrant greenery before reaching the gigantic Lac de Sainte Croix. At their highest point, some of these cliffs reach 700 m!
Gorges du Verdon is right in the center of Provence, but it's also really close to the French Riviera (about 2 hours' driving). Because of its close proximity, it's great to visit as a day trip from the coast.
Kayaking on the River Verdon
Kaying or paddle boating is one of the top things to do at Gorges du Verdon. There's nothing better than gliding on the turquoise water and seeing the cliffs from below. Around every twist and turn, there's a beautiful view and plenty of small beaches for you to relax on. You can swim where ever you like, so it's a good idea to take a waterproof bag for your belongings.
Start at the Pont du Galetas bridge and turn around when you reach a few yellow buoys. This route is around 2.5 km, and it took us roughly 2.5 hours, with a few stops along the way. As you go, make sure to look out for the small but beautiful waterfall within the gorge.
No time to read now?
No worries! Save on Pinterest to read it later.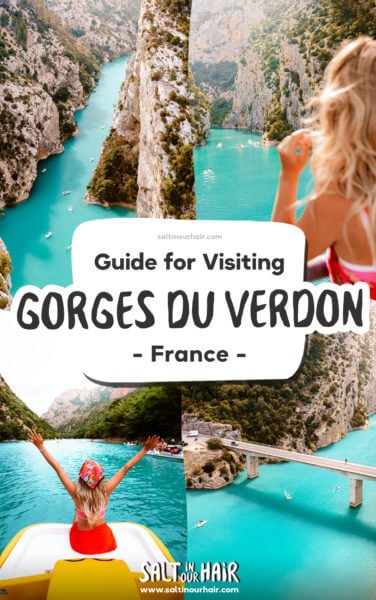 Rent a kayak or paddleboat in Gorges du Verdon
On both sides of the bridge Pont du Galetas, you'll find plenty of hire companies where you can get your kayak or paddleboat. There are also motorboats on offer if you want to see more of the lake and Gorges du Verdon.
We paid 20 euros per hour for a 2 person paddle boat. However, there are bigger options available for various prices. Note that there are no guided tours at Gorges du Verdon, so it's a good idea to chat to the staff at the hire shop about the route to take, and how far you're allowed to go.
Things to bring with you on the water
A reef-safe sunscreen (so you don't harm the environment)
Hat against the sun
Snacks
Waterproof bag
Drinking water
Please note: It's not allowed to play music inside the canyon.
View from the Bridge: Pont du Galetas
Pont du Galetas is a massive bridge that crosses the River Verdon as it opens out into Lac Sainte Croix. The views from this bridge are spectacular! Park your car on either side of the bridge and walk onto the center of the bridge. From one side, you can see a view up the Gorge, and on the other, you can see out to the lake. This is a great place to grab some pictures of this beautiful spot!
Adventure, Adrenaline, and Viewpoints
Gorges du Verdon is one of the best places for adventurers and adrenaline junkies. As you kayak, you'll see lots of people jumping from the massive cliffs and rock climbing on the sheer limestone. There are over 1000 climbing courses here, so it's a paradise for climbers of all abilities. It's also a great spot for hiking, with loads of routes that take you high up to the top of the gorge.
If you have a car, it's recommended to take a road trip on the high cliffside roads. La Route des Cretes, 'the Ridge Road', is one of the most popular routes. The route follows a circuit high above the gorge, and it's known for its epic viewpoints.
Visit Moustiers-Sainte-Marie
Moustiers-Sainte-Marie is one of France's most beautiful villages, and it's only 40 minutes away from the Gorges du Verdon. It is located high up above the river, almost embedded into the rock face; truly one of the most beautiful settings in France! Wander the charming cobbled streets with stone houses and colorful shutters, visiting cute cafes and boutique shops. Make sure to save some energy for the hundreds of stairs that climb out of the village to the top of the hill. Here you'll discover an ancient Romanesque-gothic church with beautiful views.
How to Get to Gorges du Verdon
Gorges du Verdon is remote, so it's not easily accessible by public transport. It's best to hire a car so that you can also enjoy the cliffside roads and easily access other points on Lac Sainte Croix.
However, if you don't have a car, it is possible to go on an organized tour leaving from big cities like Nice. Be aware that a lot of these tours don't include kayaking as a part of the itinerary. They normally include other locations, such as the lavender fields or Moustiers Sainte Marie.
Where to Stay Gorges du Verdon
Gorges du Verdon is a great day trip from the French Riviera or to tie in with your trip to the lavender fields of Provence. However, it's such a beautiful spot that it's well worth spending a few more days here, enjoying the hiking trails, beaches, and villages. There are a lot of campsites, but it's also possible to get an apartment or hotel in the nearby village of Moustiers-Sainte-Marie.
Best Time to Visit Gorges du Verdon
Gorges du Verdon is perfect to visit during the summer months. At this time, you can really enjoy jumping in the water, swimming, and cooling off from the summer heat.
However, because of its popularity, it gets very busy. We recommend getting here early (9 AM) to hire your kayak or boat and get a headstart on the crowds.
Did you know that …
When you purchase something through our links we earn a small fee. However, you still pay the same. Win-win!
Salt in our Hair
26/07/2023
https://www.saltinourhair.com/france/gorges-du-verdon/
Last updated:

July 26, 2023