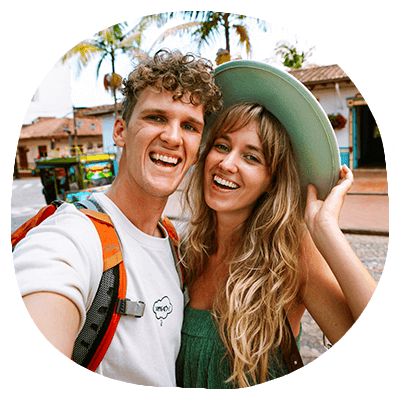 Hi, we're Nick & Hannah!
We hope you're enjoying our free travel guides & tips! If so, please consider supporting our work. 🤗
1. Valley of the Kings
The Valley of the Kings is an area of mountainous terrain, with over 60 tombs. Underground corridors, with incredible ancient wall paintings, lead the way towards the tombs of some of the greatest Egyptian pharaohs. It's best to visit early for a few reasons. Firstly, to skip the group tours, and secondly, to avoid walking out in the sun when it's hot.
It's good to keep in mind that because of closures, you may be unable to visit all the tombs that you were planning to. Additionally, travelers need to purchase a separate ticket for the tombs of Tutankhamun (100 EGP), Ramses VI (50 EGP), and Seti (1000! EGP).
Good to know:
Any camera, with the exception of cellphones, requires the purchase of an additional photo pass. We would say it is well worth the few extra dollars!
No time to read now?
No worries! Save on Pinterest to read it later.

2. Colossi of Memnon
The Colossi of Memnon are two massive 18-meter high stone statues, each carved from one single block of sandstone. They've been battered for over 3,400 years by wind, sun, and water. As a result, they are no longer in the best condition. They are located west of Luxor city and are well worth a quick pit stop while traveling to the Valley of the Kings.
3. Karnak Temple, Luxor
The morning sunlight shimmers across the massive columns, and hieroglyphs, of the majestic Karnak Temple! It is the world's second-largest religious complex, coming in closely behind Angor Wat in Cambodia. Hence why people consider it to be one of the most sacred sites in Egypt.
Visit this stunning temple at the opening (6 AM), when it is incredibly peaceful because of the lack of tourists. This certainly makes the stunning UNESCO World Heritage location one of the best things to do in Luxor.

The entrance fee is 80 EGP (± 5 USD). Please note that you do not need a guide to enter.
4. Balloon ride, Luxor
Start your day floating over the Valley of the Kings by taking a sunrise hot air balloon ride. This is a once-in-a-lifetime opportunity to experience this famous part of history from the sky!
There are a handful of hot air balloon companies in Luxor. They will collect you from your accommodation and drop you off after the tour.
5. Dier el-Bahari
A must-see in Luxor is the enormous Temple of Queen Hatshepsut! The temple, set against a desert backdrop, is located near the Valley of the Kings. The temple, built from platforms and pillars, has impressive sloping steps, which take you up through the levels.
If this temple demonstrates anything, it is that the ancient Egyptians definitely built to impress! Importantly, the building tells the story of one of the first female pharaohs, which has, ultimately, resulted in this archaeological wonder.

The entrance to Dier el-Bahari is 50 EGP (± 3.25 USD).
A Felucca is a traditional wooden sailboat without a motor. Catch the sunset by cruising on the relaxing Nile River and, at the same time, enjoy Luxor's countryside. You can get a Felucca from anywhere on the riverside. Usually, you can expect to pay 250 EGP (± 16 USD) for a one-hour private tour on the water. However, if you split this with other travelers, you can make it even less expensive and meet new people! (Book a felucca ride here)
7. Luxor Temple
Standing in the shadows of Luxor Temple, allows you to step back in time and learn about a crucial part of history. Interestingly, many important former kings had their coronations at this location. The temple, located on the east bank of the Nile, tells a fascinating story: One of the granite obelisks standing at the entrance has been moved to Paris and is now standing at Place de la Concorde.
How to get around Luxor
All attractions in Luxor are not too far from each other. The most convenient way to get around Luxor is by taxi but you need to be ready to negotiate.
Renting a car in Egypt is another good option. We recommend to rent a car at a local car company through Sunny Cars. When booking through them, all insurances are included. Book your rental car here.
Getting from Cairo to Luxor
The international airport connects to domestic airports like Cairo but unfortunately flying within Egypt is not cheap. Alternatively, buses and trains are pretty convenient and a regular way of transport in Egypt. The 10-hour night train between Luxor and Cairo only costs 10 USD.
Where to stay in Luxor
The River Nile splits Luxor in two. The city is located on the East Bank, however, the majority of the attractions are located on the West Bank. It's good to know that if you want to be away from city life, that the West Bank is far quieter than the East. Spend 1 – 3 days in Luxor, in order to get the most out of this fascinating place.
Did you know that …
When you purchase something through our links we earn a small fee. However, you still pay the same. Win-win!
Salt in our Hair
15/09/2022
https://www.saltinourhair.com/egypt/luxor-egypt/
Last updated:

September 15, 2022