Which Egypt Visa is Right for You?
With a few exceptions (countries like UAE, Malaysia, and Hong Kong), nearly all countries will require a visa to enter Egypt. Depending on what you need there are two options available:
1. Single entry tourist visa
This visa permits you to enter Egypt once for a maximum of 30 days. The cost is $25 USD and it can be applied for online (E visa). Apply here.

2. Multiple entry tourist visa
This allows you to enter and leave Egypt as many times as you like within a 90 day period (as long as you only spend a total of 30 days traveling in Egypt). It costs $60 USD and you can apply online (E visa). Apply here.

How to Apply for an Egypt Visa
There are three ways you can get your Egypt visa. However, your method depends on the trip you are going on and the Egypt entry requirements.
1. Visit the Egyptian embassy
Are you planning on staying longer than 30 days in Egypt? You need to make an appointment with your nearest Egyptian embassy for a physical visa to be attached to your passport. You will also need to visit the embassy if you're going to Egypt on business.
Additionally, certain countries need to go to the embassy to get an authorized visa—for example, Morocco, Nigeria, and the Philippines. Check the whole list here.
You are required to provide:
2 passport photos (with your name written on the back)
2 copies of your passport photo page
A completed application form (downloaded from your embassy website)
The visa fee in cash
Note: Depending on where you are applying for your Egypt visa, it can take anywhere from 2-15 days for your visa to process. Contact your embassy to find out more information.


2. Apply for an Egypt Visa Online
The easiest and most convenient way for tourists to apply for an Egypt visa is online. (Apply here) This type of visa is called an 'E Visa' and it must be applied for at least 7 days before your departure. All you have to do is fill out the application form, providing your:
Passport information (your passport must be valid for at least 6 months from arrival in Egypt)
Date of arrival and departure
Contact information of your tour group or place of residence while in Egypt
A photo or scan of your passport photo page


Don't worry if you're applying for your Evisa before you've booked your flight, as you can estimate your arrival date. However, Egypt entry requirements state that must know at least the first night's accommodation.
Tip: Have you been to Egypt before? You need to mention this during your Egypt visa application and also provide the date.

What happens after you apply?
Once you have applied, and paid the fee, your E Visa should be granted within the next few days. It will be sent to you via email with a downloadable link. Once it is granted, it is valid for 90 days, so you must enter and leave Egypt within this time. If you apply more than 90 days ahead of your trip, the system will automatically postpone your approval to a time that fits your travel schedule.


3. Egypt Visa on Arrival
There is also the option to apply for your Egypt visa on arrival, which is an easy process. All you need to do is visit an official bank kiosk on arrival at the airport. Here, you pay for your Egypt visa on arrival (25 USD) in cash, but this fee can also be paid in British Pounds or Euros. Once you've paid, they will give you a stamp you need to put inside your passport.

Please note: The Egypt visa on arrival only allows for single entry and there may be a waiting line at the kiosk. However, the good news is you don't require any copies of your passport, so it's a very simple process. For reliability and ease though, we'd recommend planning ahead and getting the Egypt visa online.
No time to read now?
No worries! Save on Pinterest to read it later.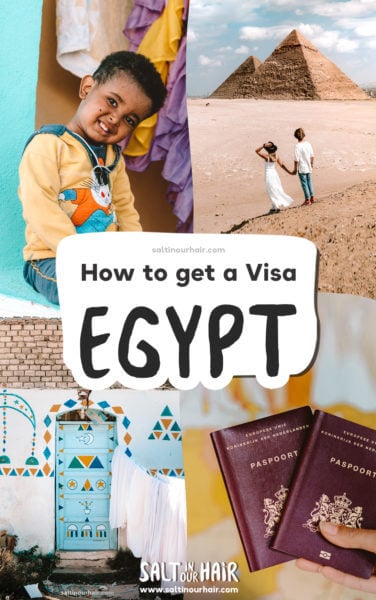 Once you have the Egypt visa on arrival, proceed to immigration and passport control and provide the arrival information listed below.

What Are the Egypt Entry Requirements?
Whatever visa you choose, you must satisfy certain Egypt entry requirements on your arrival at customs and immigration. Because of this, you will be asked to provide certain documents and information:
Printout of E visa
A complete travel itinerary (don't worry if some of these details change)
A supporting letter from your tour company or a formal invite (if you are visiting family or doing business)
A list of hotels you are staying in
The names of the places you are visiting as a tourist (you must have all of these on arrival)

How to Get a Visa Extension in Egypt
Chances are you'll fall in love with Egypt and want to explore for longer than your 30-day allowance. To do so, you'll need to apply for a visa extension in Egypt. If you don't, you could risk being fined.
Sadly, you can't apply for a renewal online; the only option is to go to the Egypt Passport and Immigration Administration in Cairo. It is open every day (except Friday. Saturdays are only for collection) from 8 AM – 2 PM.
Tip: The extension process can take around 2 days (from first appointment to collection), so apply well in advance of your Egypt visa expiration.

What do you need to extend your Egypt visa?
Passport
2 copies of passport front page and visa page
A passport photo
1670 EGP (approx 107 USD). This is paid in two installments: 1140 EGP on the first visit and 530 EGP on collection. However, you will need extra cash to pay for a passport photo if you don't already have one.
During the first appointment (which takes roughly 2 hours), you'll need to provide all the documents above and fill out a form. Two days after, you'll be asked to come back and collect your visa. This new Egypt visa grants you an automatic 3-month extension, which is plenty of time to explore the beauty of Egypt!
Did you know that …
When you purchase something through our links we earn a small fee. However, you still pay the same. Win-win!
Salt in our Hair
10/03/2023
https://www.saltinourhair.com/egypt/egypt-visa/
Last updated:

March 10, 2023