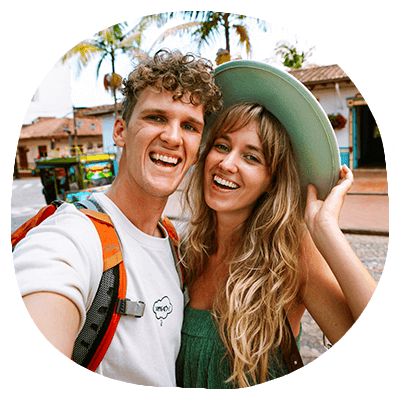 Hi, we're Nick & Hannah!
We hope you're enjoying our free travel guides & tips! If so, please consider supporting our work. 🤗
The idea was to give visitors the feeling that they were traveling throughout Europe. For example, there are villas built in old English style (Villa Chopin), in the French style (the famous Savoy Westend hotel), Dutch-style (Villa Charlotte), and Italian style (Villa Koretz and Villa Shakespeare). There are even copies of popular German castles!
10. Loket 
If you have time, visit the picturesque town Loket, located 14km from Karlovy Vary. People mostly visit for the 13th century Loket castle, which sits above the town. The word 'Loket' means 'elbow' in Czech, as the fairytale castle was built in the elbow of the river. Because of Loket's location on a bend of the Ohře river, it has the unique outlook of the river on 3 sides of the town.
How to Get to & Around Karlovy Vary
Karlovy Vary is under 2 hours driving distance from Prague, where most international flights come in. The quickest way is by car and bus, with frequent buses leaving Prague throughout the day and taking just over 2 hours. The train is slightly slower (taking over 3 hours) with a few direct departures a day. (Find all bus and train options here)
Getting Around
Once in Karlovy Vary, all the main sights are within walking distance of each other. This is definitely the best way to see the town. If venturing further afield, think about hiring a car for the perfect Czech road trip!
Where to Stay in Karlovy Vary
There are numerous hotels with spa's to pick from in Karlovy Vary. Pick one of our favorites below or see all hotels.
Karlovy Vary Best Places to Eat
Karlovy Vary is famous for its wafer. These are thin, sweet biscuits that used to be served to spa guests visiting the town. The secret ingredient, of course, is the famous thermal water. Outside of the wafer biscuits, these are the best places to eat in Karlovy Vary:
Tusculum
Spunt & Knoflik Company
La Hospoda
Ristorante-Pizzeria Palermo
This trip was made possible by visitczechrepublic.com and karlovyvary.cz/en
Salt in our Hair
19/01/2022
https://www.saltinourhair.com/czech-republic/karlovy-vary/
Last updated:

4 September 2020