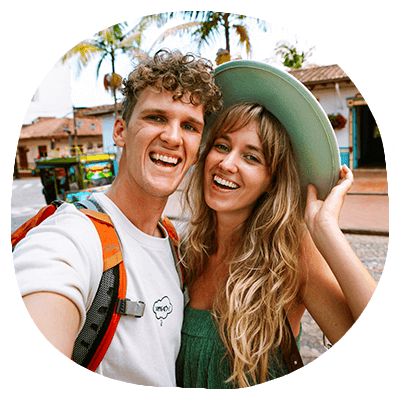 Hi, we're Nick & Hannah!
We hope you're enjoying our free travel guides & tips! If so, please consider supporting our work. 🤗
Visiting the Rastoke Waterfalls in Croatia
Nested in the town of Slunj lies the charming village of Rastoke, a hidden treasure and beautiful surprise on any Croatia itinerary. Enveloped by the rivers Korana and Slunjcica, the village boasts numerous small cascades and a quaint settlement built atop. Wander through its overwater layout, crossing beautiful bridges and admiring the area's peacefulness.
This mini version of the incredible Plitvice Lakes National Park (only a 30-40 minute drive away) boasts the same natural phenomena as its famous neighbor, from protected tufa formations to ever-changing waterfalls. However, it has the added advantage of fewer crowds, providing a truly relaxing experience.
What to do in Rastoke
Due to its small size, Rastoke is all about wandering through the village, following the river stream down to powerful falls and magical cascades. Although Rastoke shares the Korana River with Plitvice Lakes, it's the Slunjcica River that crafts this water wonderland, forking and branching throughout the small town.
Our Croatia tips in your Google Maps?
We made it easier for you! All our tips: favourite to do's, restaurants, hikes, secret spots & more in Google Maps!
No time to read now?
No worries! Save on Pinterest to read it later.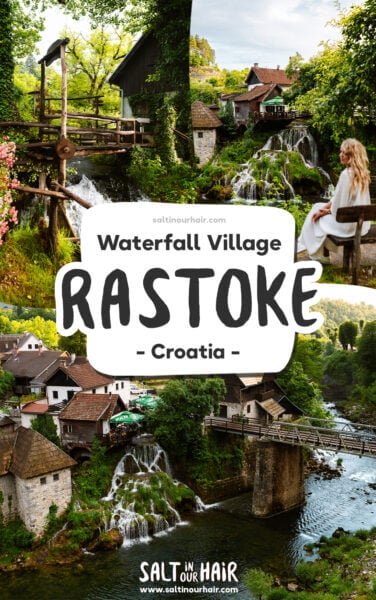 Head out on a picturesque journey, exploring the three main falls and over 23 cascades that flow down the limestone rock. As you wander through the village, discover the different meadows, little islands connected by bridges, an 18th-century mill, a cave, and even a fairy garden.
The cute traditional houses of Rastoke, Croatia, making it seem as if you've just stepped into a live fairytale. Legend has it that the riverbanks are home to fairies who bring the water that drives the mills in town. Follow the trails along the river, soaking up the peaceful atmosphere and beautiful Rastoke waterfalls.
Walk along the banks of the river, with some spots to go swimming, and meander through the authentic mills built over waterfalls. From this spot, you'll overlook the Korana Canyon atop an old steel bridge and be able to see multiple waterfalls — wow!
Good to know: Signs along the trails provide information and even an audio tour by scanning a QR code.
Opening Times & Entrance Fee
The village of Rastoke, Croatia, is free to visit. However, there is an eco-museum that grants you close access to the waterfall through a somewhat secret staircase leading down to the river. Walk down the magical wooden steps beneath green mossy boulders – an otherworldly experience with incredible views!
This pay-to-enter side of the village costs 5.30 EUR (5.80 USD) and is open between 9 AM and 8 PM. Though it's closed on Tuesdays, you can still see all the waterfalls.
Tips for Visiting the Rastoke Waterfalls
The waterfalls and cute stone houses of Rastoke are a must-see on your trip to Croatia. To make your visit unforgettable, here are some helpful tips:
Respect nature and Rastoke's locals. The lush area here is protected and has a delicate ecosystem. Please follow the designated paths, avoid disturbing wildlife, and keep all your garbage with you (sustainable travel tips!). Remember that this is also a residential area, so respect the locals' privacy.
As it lies a bit higher up, this area is much cooler than other parts of Croatia. Because of this, it's good to check the weather forecast and come prepared with layers of clothing.
Wear comfortable shoes. While walking around the village and exploring its natural beauty, you'll notice that the terrain can be uneven. Bring some sturdy shoes for the best experience!
As it's a little village, it's always a good idea to bring some cash with you. Not every establishment in Rastoke takes credit cards.
Combine the Rastoke waterfalls with Plitvice Lakes National Park. As these locations lie close to one another, it's easy to visit both. And although they're both known for their waterfalls, each is a unique and captivating experience.
We recommend eating in the village, too. In the evening, the town's known to have low-hanging clouds, making the village even more magical! We ate at Konoba Kum.
How to Visit Rastoke, Croatia
The tiny waterfall village of Rastoke lies only 30-40 minutes away from the famous Plitvice Lakes National Park, making it a beautiful must-see on your journey to the mountainous center of Croatia.
By Car
The quickest and most flexible option to get to Rastoke is by your own transportation. Rent a car in Croatia and head out to the lush center of the country, soaking up the incredible views along the way. The village is located along the highway between Karlovac and Plitvice Lakes and is easy to get to by car.
From the center of Slunj, Rastoke is only a 10-minute walk away. There are a few different parking options nearby: spot 1, spot 2, spot 3
Our Croatia tips in your Google Maps?
We made it easier for you! All our tips: favourite to do's, restaurants, hikes, secret spots & more in Google Maps!
By Public Transport
There are a few buses from Zagreb that travel down to the town of Slunj and the Rastoke waterfalls. The journey takes about 1,5 to 2 hours depending on the traffic, meaning you'll have plenty of time to explore the town if you travel in the morning. Tickets cost between 8,90 – 15 EUR (9,75 – 16,50 USD).
Organized Tour
If you don't have your own transportation and plan to see the stunning neighboring Plitvice Lakes, then it's also possible to book an organized tour of Rastoke, Croatia. Many tours depart from Zagreb and include both a visit to the national park and the 'Little Plitvice' Rastoke.
Where to Stay
Though you can easily explore the village of Rastoke and its waterfalls in a few hours, you can also stay overnight.
Soak up the quiet atmosphere of this magical overwater village, listening to the rushing river stream through your BnB's window. This is a relaxing experience, with plenty of guesthouses and BnBs to choose from.
Did you know that …
When you purchase something through our links we earn a small fee. However, you still pay the same. Win-win!
Salt in our Hair
31/08/2023
https://www.saltinourhair.com/croatia/rastoke-waterfalls/
Last updated:

August 31, 2023