The main area of Koh Rong called Koh Touch is a 2km strip of white sand, built with accommodations, home stays, restaurants, shops, and bars. There's no concrete road, no 24/7 power supply, since January they've got their first policemen and it's the only place in Asia where smoking weed seems to be legal.

8 great things to do on Koh Rong Island
Although Koh Rong is a bit undeveloped and should mainly be visited to chill, there still are some activities that you can do!
2. Glowing plankton
Koh Rong is famous for bioluminescent plankton, they light up in the dark. You won't be able to see the plankton near Koh Toch Village because of all the lights. You can combine this with a boat tour you take.
3. Enjoy the view at the Skybar
Koh Rong's first and only sky bar is a great place to just chill and enjoy the afternoon. You can find it by following a narrow alleyway between The Minimart and The Rising Sun Guesthouse.
No time to read now?
No worries! Save on Pinterest to read it later.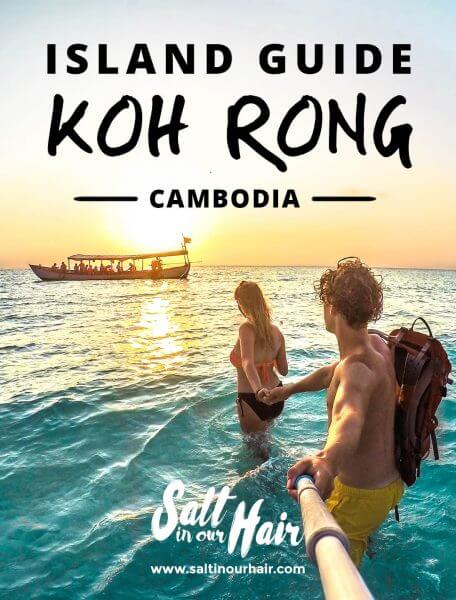 5. Get your PADI at Koh Rong Dive center
Koh Rong dive center is located at the main pier and is currently the only dive center on the island. They offer diving courses every day of the week.
6. Keep Koh Rong's beaches clean
Friends of Koh Rong is an organization that helps the island with education and island development. They have a lot of ongoing projects and if you want to do something good, stop by and ask them if you can help. They organize beach clean-ups once or twice a week.

7. Zip lining through the Jungle
High Point Adventure Park, owned by a Russian guy, he built a rope adventure park with a 160-meter zip line. The park is high in the jungles of Koh Rong and features two ziplines, climbing and rope walking.
Things you should know before visiting Koh Rong
There is no proper working WiFi. (time of writing: 2016)
There are no ATM's. Take enough cash with you, although there are ways to loan cash at some bars on Koh Rong Island

A lot of people, including us, got sick after visiting Koh Rong. We heard and read that you shouldn't swim near the pier, where the sewer ends.

Koh Rong suffers from sandflies. We keep these photos to ourselves. You can prevent the bites from sandflies by covering yourself in coconut oil. It doesn't repel them, but the layer of oil will trap them and prevent the bites.
The sad part of the paradise story is that the island is bought by some rich guys. They're making plans to transform it into the next Hong Kong. But that's a reason for you to go, right now! Give us one reason to skip this experience?

How to get to Koh Rong?
Flying to Phnom Phen is the nearest to Koh Rong. But tickets to this airport are usually a lot more expensive than flying to Siem Reap.
From Sihanoukville one or multiple ferries leave for Koh Rong. You can go to the pier, book an open return ticket and hop on the next ferry. This will cost you around $21,- and will take 45 to 90 minutes.
The day before leaving you will get to the ferry company, tell them you want to leave the next day and take the boat back to Sihanoukville or Koh Rong Samloem.
Koh Rong Speed Ferry timetable
Departure times: 9:00am, 11:30am, 3:00pm
Return times: 10:00am, 12:30pm, 4:00pm
GTVC
The newest company GTVC offers return tickets for $12. Book your tickets online, search for the ferries on this website.
Buva Sea Ferry
Drop off at Koh Touch or alternative piers which are not serviced by the other ferry companies. $20 for a return ticket. Buy your ticket here. Make sure to select a ferry in the search form.
Find cheap flight tickets to Siem Reap
Where to stay on Koh Rong?
A lot of people living on Koh Rong transformed their houses into dorms, which cannot be found on Booking.com. When you get off the pier across from Coco's, go left to stay in the more quiet area or right to enjoy the late-night parties.
Travel Info
Best time to travel Cambodia: Nov – Mar
Currency: Riel
Daily budget: $40
Malaria: Spray and medication
Visa: At border
Did you know that …
When you purchase something through our links we earn a small fee. However, you still pay the same. Win-win!
Salt in our Hair
07/04/2023
https://www.saltinourhair.com/cambodia/koh-rong/
Last updated:

April 7, 2023