All Hostels on Koh Rong
Koh Rong has loads of simple bungalows and room and they are located directly on the gorgeous white sand beaches. Guesthouses and hostels on Koh Rong are just a bit more expensive then you're probably used to but you will be over it once you've seen this Koh Rong Island Guide.
No time to read now?
No worries! Save on Pinterest to read it later.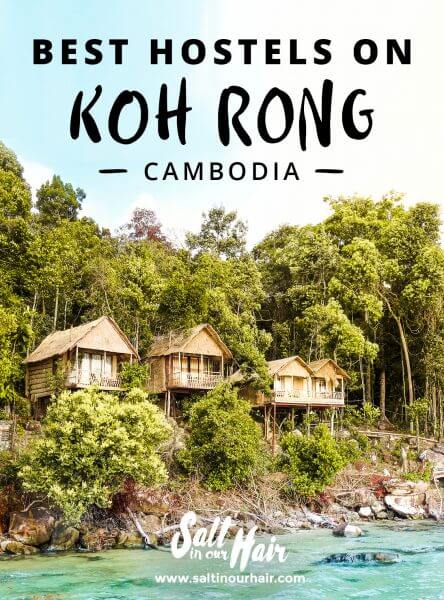 When booking via Booking.com you can pretty much always book in advance with free cancellation. A lot of these Koh Rong Hostels, hotels, and guesthouses are very popular so it is wise to book a few days ahead. 
Koh Toch Village
Koh Toch Village is the location of cheap guesthouses and hostels on Koh Rong. Loads of travelers ended up staying for months in this village.
If you're looking for rest and relaxation, staying in the village itself is not what we would recommend, but it's a great place to party and meet other travelers. Here are a few Koh Toch Village Hostels and Guesthouses:
Koh Toch Beach
North of the village is a gorgeous stretch of white sand where you'll find quieter bungalow-style accommodation, although most of it is still pretty basic. If you're looking for beach time but still want to have access to the bars and restaurants of Koh Toch, this is the place to stay. Here are our favorite Koh Toch Beach bungalows:
Long Set beach
Located a 30 to 40-minute walk from Koh Toch Village, Long Set beach offers is a more old part of Koh Rong. The white sand beaches are still undeveloped.
Nature Beach, Coconut Beach, Daem Thkov Village
North of the popular Koh Toch area, these beaches and village are a more chilled-out experience on Koh Rong.
Palm Beach, Lonely Beach, Song Saa
Away from everything and the a tiny island Koh Bong Poun.
Koh Rong Sanloem
Koh Rong Sanloem is paradise for every backpackers and luxury traveler, each part of the island has its own own unique island style. These are the Koh Rong Sanloem hostels and guesthouses.
Koh Rong Luxury
We had to show you these beau-ti-ful hotels on Koh Rong.
Did you know that …
When you purchase something through our links we earn a small fee. However, you still pay the same. Win-win!
Salt in our Hair
03/11/2023
https://www.saltinourhair.com/cambodia/hostels-koh-rong/
Last updated:

November 3, 2023