Kelingking viewpoint
Visiting the Kelingking viewpoint is one of the most famous things to do on Nusa Penida. The 200-meter high drop overlooking the T-rex head and the beach is just mindblowing.
It is easy to visit by a Nusa Penida day tour from Bali or Nusa Lembongan which is why you won't be the only one at Kelingking, however, most of the visitors stay at the top at the viewpoint. Use these tips to avoid most other visitors:
Start to follow the hiking path down for about 5 minutes to have fewer tourists in your photo.
Or walk all the way to the right from the viewpoint to have a spot all to yourself. Do watch out for the monkies!
Nusa Penida day tours start at 9 AM, visit before this time.
During a 3-day Nusa Penida Trip, you can experience sunset at Kelingking.
The newly constructed roads in 2018 go directly towards Kelingking viewpoint. It is easily accessible by car and motorbike.
Kelingking Beach, how to get there
The hike down to the beach shouldn't be underestimated. Kelingking viewpoint is on the list of things you must do in Bali.
No time to read now?
No worries! Save on Pinterest to read it later.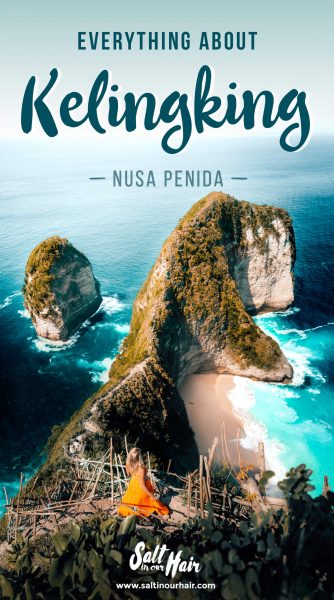 However, visiting the beach isn't doable for everyone. The first 10 minutes down is a super steep sand path with a bad wooden fence. The full hike down to Kelingking Beach takes 40 to 60 minutes.
Swimming at Kelingking Beach
You will get rewarded at the bottom with a beautiful beach. Swimming at the beach is not very safe due to the strong current.
If you don't feel comfortable with going all the way down to the beach, walk the stair just halfway. The viewpoint and half a beautiful view over the bay. An easier beach to visit is Diamond Beach on Nusa Penida.  
Remind yourself to take a lot of water, good shoes, and sunscreen.
Tip: Do not visit the beach during sunset. The high waves and hike are extra dangerous when it's dark.
Salt in our Hair
26/09/2020
https://www.saltinourhair.com/bali/kelingking-nusa-penida/
Last updated:

17 October 2018