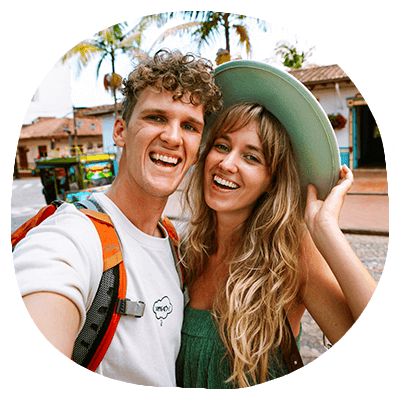 Hi, we're Nick & Hannah!
We hope you're enjoying our free travel guides & tips! If so, please consider supporting our work. 🤗
Best Waterfalls in Bali: Day 1
Wake up early for the start of your packed two-day Bali waterfall route. One will be harder to reach than the other, for that reason, the hardest hikes are planned in the early morning. Wear good shoes and your swimsuit and finally bring a towel and drinking water in a reusable bottle. 
The Bali waterfalls map shows some of the most impressive falls on the island. The majority of the waterfalls are located in central or north Bali.
1. Nungnung Waterfall
First up, Nungnung Waterfall, An extremely powerful waterfall about 45 minutes north of Ubud. The 509-steps walk down is a tough one to do back up, therefore, arrive around 8 AM so you can chill, have a swim in the pool of the waterfall and hike back up slowly. The stairs are well maintained and have a straightforward path.
The entrance ticket costs 10,000 IDR (~ 0.8 USD). Good to know: During the rainy season, do not shower under the waterfall as natural waste like rocks and tree branches might fall down the stream.
3. Banyumala Twin Waterfall
Make your way to the cooler Munduk area, where the Banyumala Twin Waterfall is located. The waterfall is split into two falls, pouring down into a large pool which is great to swim and relax. Expect this waterfall to be a bit busier but due to the large area and a second waterfall hidden in the back, you can easily have your own space of relaxation.
The drive from Leke Leke takes around 60 minutes followed by a good 10-minute walk down. 
Spend the first night of your Bali Waterfall tour in Munduk, a pleasant and super chilled town near the Banyumala Twin Waterfall.
Day 2 of exploring the best waterfalls in Bali
Another early wake-up on the second day to explore the rest of the best waterfalls in Bali, luckily we saved the best for last! Get a good breakfast and refill your water bottles and make your way to the Sekumpul Waterfall.
4. Sekumpul Waterfall – Best Waterfall in Bali
Arguably the most incredible waterfall Bali has to offer: Sekumpul Waterfall. Water drops from a height of 80 meters down into the refreshing natural pool. The relatively long but easy walking trail through the forest takes you to a jaw-dropping panoramic viewpoint. Finally, a 15-minute walk down brings you to the foot of the most epic location of the Bali waterfall tour.
Our Bali tips in your Google Maps?
We made it easier for you! All our tips: favourite to do's, restaurants, hikes, secret spots & more in Google Maps!
Start driving from Munduk at 8 AM, as it is harder to reach and lesser-known, Sekumpul won't be so busy before noon. The entrance ticket to Sekumpul is 250,000 IDR which includes a guide, a second waterfall, and drinking water. It is a high price but totally worth it, however, a guide and getting a plastic water bottle is not necessary at all.
5. Aling Aling Waterfall
Aling Aling is different from all the other waterfalls in the Bali waterfall tour as it has natural water slides and jumping points. Aling Aling itself is sacred water and is not allowed to swim in but there are loads of other waterfalls down the trail where you can but a guide is allowed to do so. Sekumpul to Aling Aling is a 45-minute drive.
6. Git Git Waterfall
Let's hope you still have some energy left for the last waterfall of the tour. Git Git is a popular waterfall and easy to reach due to its location next to the road. It is possible to swim in the pools in front or get a refreshing shower under it. Aling Aling to Git Git is a short 35-minute drive. The entrance fee to this waterfall is 20,000 IDR. 
What's the price for a 2-day Bali Waterfall Tour?
The total amount for two days including transfer to your hotel is 1.500.000 IDR (~$106). A one-day waterfall tour costs 750.000 IDR. Split that over the 4 people in one car and it is super affordable. Our driver Yande is an amazing guy and you should contact him and tell him you want to do the same waterfall route as Nick & Hannah from Salt in our Hair. He knows where to take you. 
Please keep in mind that the entrance fees are not included and if you do a two-day tour, an additional 250.000 IDR is required to cover his accommodation costs.
Did you know that …
When you purchase something through our links we earn a small fee. However, you still pay the same. Win-win!
Salt in our Hair
04/11/2022
https://www.saltinourhair.com/bali/best-waterfalls-bali/
Last updated:

5 December 2019