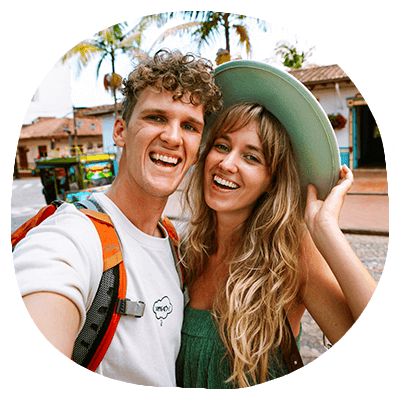 Hi, we're Nick & Hannah!
We hope you're enjoying our free travel guides & tips! If so, please consider supporting our work. 🤗
Visiting the Batur Natural Hot Spring in Bali
Hot springs are one of Bali's many natural treasures, scattered across the island's inner regions. In mountainous Batur, you'll find crystal-clear infinity pools with panoramic views over a tranquil lake and its surroundings.
The Batur Natural Hot Spring lies at the foot of a volcano, allowing the mountain stream to warm and carry down minerals into a couple of man-made pools below. These therapeutic, mineral-rich waters serve as the perfect wellness retreat tucked away in a gorgeous lush environment. While you bathe under beautiful Balinese sculptures, listen to the trickling of water fountains, and look out across the neighboring lake – you could easily stay here for hours!
Swimming in Bali's Hot Springs
Though the warm water is natural, heated geothermally by underground magma, the spring's pools are man-made. There are several different ones at the Batur Natural Hot Spring, including one for children. The natural spring water bounces off the rocks and is full of volcanic minerals. These are amazing for your skin and help relax your muscles – making it a great thing to do in Batur after a morning full of sightseeing or hiking up the mountain.
At the very center of the hot spring, the water temperature reaches up to 50°C. However, when the spring flows into the swimming pools, the water cools slightly to about 40°C (105°F). This means you'll have the perfect temperature for bathing. Note that it's important to take regular breaks from the water (about every 15 minutes) to allow your body temperature to return to normal.
No time to read now?
No worries! Save on Pinterest to read it later.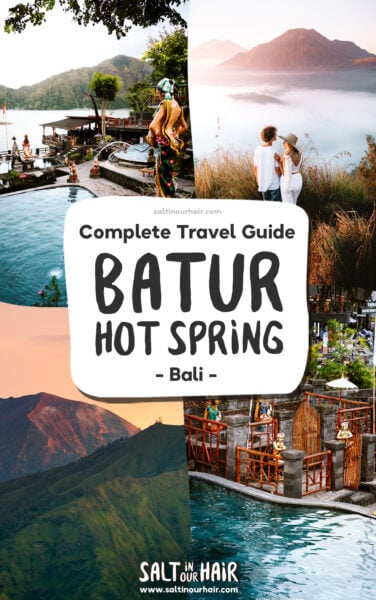 Apart from the pools' healing properties and relaxing atmosphere, the best part about the Batur Natural Hot Spring is its location. Situated right between the mountain and Lake Batur, the infinity pools allow you to look out over some of Bali's finest natural gems.
Entrance Fee & Opening Times
The Batur Natural Hot Spring is open every day between 7 AM – 7 PM, except on Nyepi (Day of Silence). During these hours, you can relax in the different pools and enjoy the waterfront views. Listen to the fountains' streams and the sounds of the surrounding nature, soaking up the serenity of the place. Entrance to the hot spring costs 190,000 IDR (12,70 USD) and includes a free towel, locker, and a welcome drink.
Tip: This is one of several hot springs in the area. If you're looking for a slightly more luxurious option, you can head to the hot spring next door: Toya Devasya Natural Hot Spring. This location also offers spa treatments and costs 300k IDR (20 USD) to enter.
What to Bring to the Hot Springs in Batur
Your trip to northern Bali wouldn't be complete without stopping for a swim in the Batur Natural Hot Spring. Make sure to pack your swimsuit! There are changing rooms and showers on site, and shampoo is provided.
Our Bali tips in your Google Maps?
We made it easier for you! All our tips: favourite to do's, restaurants, hikes, secret spots & more in Google Maps!
Remember, hot temperatures can lead to dehydration. Because of this, it's important to take regular breaks from the water. Bring a cover-up if you like and some water, or order something to drink at the restaurant on-site. A welcome drink (juice or soda) is also included in the entrance fee.
Did you know? Some of the hot springs in Bali are sources of holy water for Balinese Hindu temples, which you'll often see built around them.
How to Visit the Batur Natural Hot Spring
Tucked between water and mountain, the Batur Natural Hot Spring lies in the lush north of Bali. From the capital Denpasar, it takes about 2 hours to drive up to Batur.
The best option to get there is by private vehicle, as public transportation around Bali is scarce. You can rent a motorbike in almost every town and drive up the island yourself. This way, you can make the journey north part of your Bali itinerary, stopping in locations such as Ubud and the Tegalalang rice terrace.
Book a local driver or tour
Contact our friend Yande with his Bali Friend Tour team. We've done countless incredible trips with him in the last 6 years!
Alternatively, you can also book a driver in Bali or a tour that will take you up north. Often, you can combine this with other activities in the area, such as hiking up the incredible Mount Batur.
Hotels near the Batur Natural Hot Spring
You can visit the hot springs of Batur on a day trip from one of the towns on the southern peninsula of Bali, such as Seminyak or Canggu. However, there's so much more to discover in the region, from floating temples to serene mountain villages.
Because of this, it's worth spending at least a couple of days in the area of Batur. Wake up in a waterfront hotel or go glamping high up in the hills; there are plenty of amazing accommodation options to choose from.
The Best Time to Visit
Visiting Mount Batur's surrounding springs is more than worth it, as it lies in one of the many incredible areas of Bali, Indonesia. It makes the perfect activity to do after your sunrise experience up on the volcano.
The pools are open year-round, so you can bathe and overlook the stunning Lake Batur anytime you like. Though it doesn't get extremely busy, it is a popular location for Indonesians during the weekend. Because of this, we recommend visiting during the week when it's slightly quieter.
Did you know that …
When you purchase something through our links we earn a small fee. However, you still pay the same. Win-win!
Salt in our Hair
15/05/2023
https://www.saltinourhair.com/bali/batur-natural-hot-spring-bali/
Last updated:

May 15, 2023